£30,000 cheese order stranded as Russia import ban bites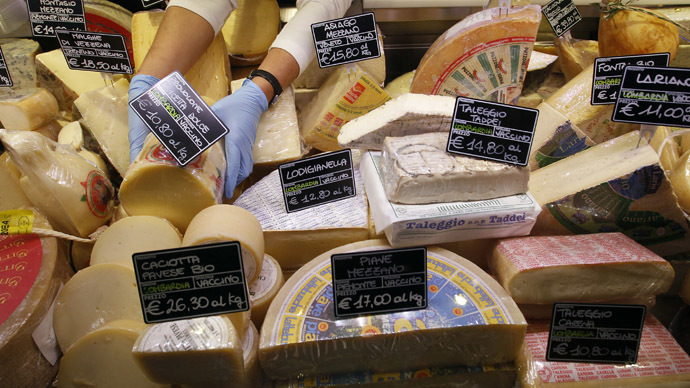 As Russia's sanctions on food imports begin to bite, a £30,000 cheese order only hours from export has been left stranded at its Shropshire depot.
The Russian government signed a decree on Thursday which bans the import of beef, pork, poultry, meat, fish, fruits and vegetables, cheese, milk, and dairy products from the EU, US, Australia, Canada, and Norway.
The decree "on the use of specific economic measures" has been signed in response to sanctions imposed on Russia by a number of states over the Ukrainian crisis, the Kremlin said on its website.
Officials warn Russia's ban on agricultural food imports could cost the European Union about $16 billion (12 billion euro) and drag the continent into the crisis.
The cancelled cheese order was for a range of traditional English cheeses including Cheddar, Cheshire, Double Gloucester, Red Leicester and Wensleydale. Belton Cheese said orders from Russia had been expected to bring in up to £2m over the next three years.
Justin Beckett, managing director of Belton Cheese, said Russia was an "exciting" market and news of the import ban was "disappointing".
The European Union is likely to consider filing appeals with the World Trade Organization (WTO), Lithuania's Foreign Minister Linas Linkevicius said Thursday.
Shares in one of Russia's biggest agricultural holdings Razgulay shot up 39.87 percent by Friday afternoon, according to Moscow Stock Exchange data. Russian farmers were mostly inspired by the import ban, calling it a unique and historic opportunity to develop domestic production.
The value of Russian agricultural product production could grow by about $10.8 billion in the next 18 months, Agriculture Minister Nikolay Fyodorov, told ITAR–TASS on Thursday. Europe, by contrast, could end up with an overproduction, especially in fruits and vegetables.
Belton Cheese said it would now look for another buyer for the cheese.
You can share this story on social media: