EU may consider WTO appeal over Russian food bans - Lithuanian FM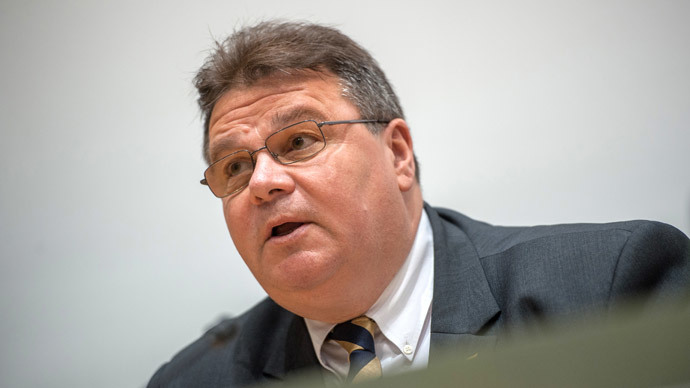 The European Union is likely to consider filing appeals with the World Trade Organization (WTO) after Russia announced import bans on products from the EU, Lithuania's Foreign Minister Linas Linkevicius said Thursday.
READ MORE: Russia bans agricultural products from EU, USA, Australia, Norway, Canada - Medvedev
"We will consult with our partners. It is in the interest of the WTO to protect members of the European Commission. This is done cooperatively. So, I think these issues will be address. It is too early to speak about all the implications, we need to carefully review and draw conclusions. Now, it's hard to say, it's too soon," Linkevicius said, as quoted by RIA Novosti.
Lithuania is one of the EU nations that is most dependent on trade with Russia, which imported €25 billion of goods from the Baltic state in 2013. From that, €1.3 billion of exports to Russia were agriculture goods and alcoholic beverages.
This would not be Lithuania's first complaint in the WTO over Russia's so-called trade discrimination. At the end of June Riga filed a formal complaint with the WTO over Moscow's pork ban, which it announced in January after two cases of African swine fever were discovered in Poland and Lithuania.
In 2013, Russia imported $6.7 billion of meat and meat products in total. The largest suppliers came from now-banned countries like Denmark (6.6% of total Russian meat products), Germany (6.4%), USA (5.3%), and Canada (3.8%).
The EU considers the move by Russia to be "politically motivated," the official representative of the European Commission Frederic Vincent, said.
The WTO has not yet received an officially filed complaint from any of the countries that came under Russia's import ban, representatives of the organization said.
The same source said that the EU Council may arrange an urgent meeting in the coming days to form a response to Russia's counter sanctions.
On Monday Russia enacted a one year ban on beef, poultry, fruit, and dairy products from the EU, US, Canada, and Norway, in response to Western sanctions.
READ MORE: Putin bans agricultural imports from sanctioning countries for 1 year
You can share this story on social media: