European farmers say Russian import ban may sting, EU says 'Ukraine is top priority'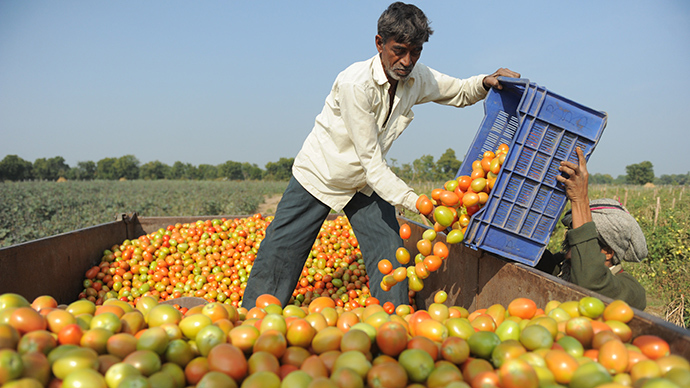 Russia's import ban on agricultural goods from countries that sanctioned Moscow over the Ukraine crisis may have a negative impact on European producers, farmers say. However, the EU's ambassador to Moscow insists the bloc's position will not change.
READ MORE: Russia to ban all US agricultural products, EU fruit & vegetable imports - watchdog
Russian President Vladimir Putin signed Wednesday a decree imposing a one-year ban on agricultural produce, foods, and raw materials from countries that have sanctioned Russia. The list of banned or restricted goods is expected to be approved by the government later in the week.

European agricultural businesses responded by saying they are worried that the Russian import ban may have serious negative consequences for them.

Finland may lose as much as 400 million euros (US$535 million) as a result of Russia's retaliatory sanctions. According to Heikki Juutinen, the managing director at the Finnish Food and Drink Industries' Federation, sanctions would be "very bad news" for his country, as about a quarter of Finland's exports go to Russia, local Yle radio station reported. The situation may affect such big players as Valio – Finland's biggest dairy producer.
"This has the potential - and I stress potential - to become Economic Crisis 2.0," Prime Minister Alexander Stubb told reporters in the Finnish city of Espoo, Reuters quotes.
However, Stubb also made clear the burden of retaliation had to be shared among EU members: "If sanctions hit Finland disproportionately, we will seek aid from our EU partners."
...and if I don't get my #Valio milk and #Oltermanni cheese here, #Russia loses me. This is getting personal. http://t.co/7k580Jvnnq

— Petteri Lehtinen (@PetLeh) August 6, 2014
The German Farmers' Association (Deutscher Bauernverband) said the move could cause an increase of supply on the EU's internal market, which, as a result, would put additional pressure on local producers.

"Russia is an important market for our key export goods, primarily meat and dairy products," said the group's deputy head, Udo Hemmerling, as quoted by Itar-Tass.
By the end of 2013, the major importers of dairy products to Russia were Finland, with 17.8 thousand tons worth US$19.6 million; Estonia, with 8.3 thousand tons worth $19.4 million; Poland, with 3.8 tons worth $8 million; and Lithuania, with three tons worth $7.3 million, according to Russia's Federal Customs Service.
'Issue of secondary importance'
However, Moscow's retaliatory move will not change the European Union's position on Ukraine, the EU's ambassador to Moscow, Vygaudas Ušackas, told RIA Novosti.

"Sanctions issue is of secondary importance in our relations. We've faced much more important and fundamental questions that must be addressed as soon as possible," the diplomat said. Ušackas expressed hope that in the nearest future, Moscow and the EU will agree to take joint steps aimed at the de-escalation of the Ukrainian crisis.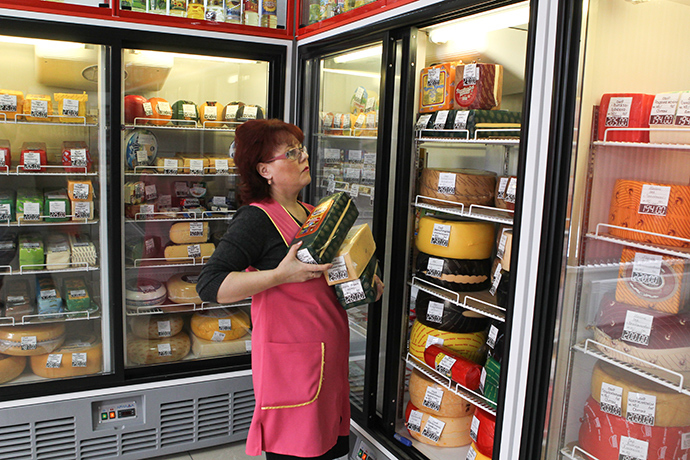 At the same time, the EU's policy of sanctions towards Russia will cost the bloc – although the exact impact is currently unknown – Thierry Mariani, co-chair of Association Dialogue France-Russe, said.

"For now, no one can say exactly how much [European] companies will lose – too little details is known," Mariani said, commenting on the news to RIA Novosti.

Western officials have been warning that a Russian import ban may hit consumers inside the country too.

According to Hemmerling, prices for pork in Russia have already increased significantly. "So Russian consumers will also have to pay for sanctions of their government," he said.

However, Russian authorities assure that the import ban will not affect the country's consumers.
Restrictions will only be imposed on products that Russia can produce itself or those "it can easily do without," said Igor Rudensky, a United Russia MP who chairs the State Duma's Committee on Economic Policy. Shelves in the shops won't be empty, he added, as cited by the ruling party's press service.
Also, the decision to prohibit products from a number of foreign countries would stimulate Russian manufacturers, according to another MP for United Russia, Irina Yarovaya. In her opinion, many producers of "quality products" who previously could not make it to supermarket shelves will now be able to sell their goods while simultaneously developing their business.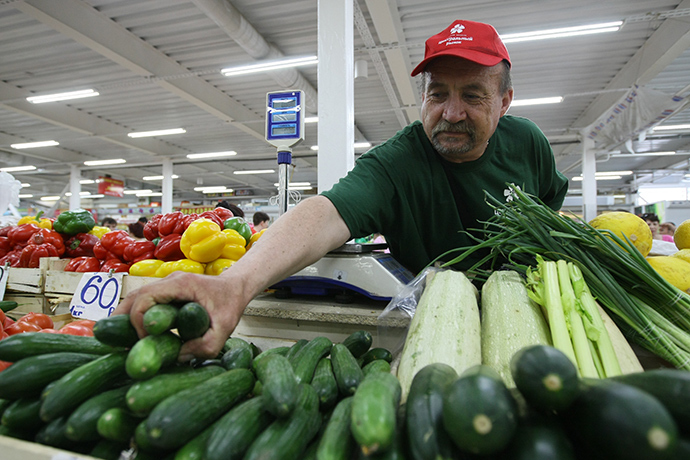 Russian retailers say it would take up to two months to fully replace all the banned products. Analogs could be delivered from the CIS, Africa, China, Egypt, and Latin America.

"Opportunities to replace produce will be sought both within the country and in the countries that have not supported sanctions [against Russia]," Andrey Karpov, executive director for the Retail Companies Association, told Itar-Tass. Additionally, Russia's regional players may get a chance to increase their market share.

Russia's agricultural watchdog Rosselkhoznadzor has already given the green light for 91 Brazilian suppliers of animal origin foods. The list of companies that are allowed on the Russian market has been published on the agency's website. It includes 31 suppliers of beef by-products, 27 suppliers of poultry and beef, four companies that would import pork and pork by-products to Russia, and three dairy suppliers.

The final list of European and US products to be banned has yet to be discussed or confirmed by Russian Prime Minister Dmitry Medvedev. He is scheduled to review it on Thursday, according to Medvedev's spokeswoman, Natalya Timakova. The preliminary list, disclosed by the Russian watchdog on Wednesday, is a "working draft," Timakova said.
'Very logical response'
Meanwhile, EU sanctions against Russia have stirred up some critics, who argue that Europe and its citizens will be the ones hurt by the move.

"It is no wonder that now there will be reactions and they will be very negative because there are Europeans who will pay the bills," Anna van Densky, political commentator for EU Reporter magazine, told RT.

Moreover, the "adventuristic" EU sanctions were introduced without proper consultation with the European Parliament – the only institution directly elected by and accountable to European citizens – van Densky said. Instead of consulting the people, the European Council reportedly held talks with US President Barack Obama, she said, adding that there was a "dramatic lack of democratic basis in this decision."
As for the import ban ordered by Putin, van Densky believes it to be a "very logical response."

It would be "very strange" to expect from the elected head of state "a reaction close to Jesus Christ, that he would offer the other cheek" in response to Western sanctions.

"What happened is absolutely predictable, and it is the result of political adventurism, because the situation in Ukraine – and everybody knows it – has no other solution than a negotiated solution," Van Densky stressed.

On the other hand, the import ban may benefit local farmers, van Densky argued: "It is very good news for Russian agricultural producers because they will try to do their best to fill the gap and it will boost Russia's agriculture."
You can share this story on social media: