Putin asks government to develop countermeasures to Western sanctions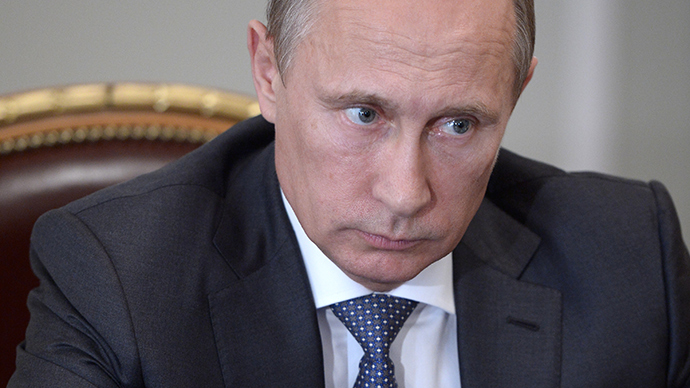 Russian President Vladimir Putin has urged his government to come up with countermeasures to Western sanctions imposed against Russia over the Ukrainian conflict.
Medvedev: Russia to consider retaliation to EU sanctions
Putin stressed that Moscow's response should be "cautious."
"Obviously we need to do it cautiously in order to support domestic manufacturers, but not hurt consumers," he said on Tuesday.
The president expects the government to present a response to the sanctions as soon as possible.
Putin said that the political tools of pressure being used against the Russian economy are unacceptable, stressing that they go against international rules and norms.
Putin's comments come on the same day Prime Minister Dmitry Medvedev said that Moscow will consider possible responses to EU sanctions against Russian airlines.
On Tuesday, Vedomosti daily reported Russia was considering limiting, or even completely blocking European flights to Asia that cross Siberia, in response to EU sanctions that caused Aeroflot subsidiary, Dobrolet, to suspend flights on Monday.
Last week, the EU imposed a fresh round of sanctions targeting financial, energy and defense sectors of the Russian economy. The sectorial sanctions targeted five major Russian banks, including the country's biggest, Sberbank. These financial entities will be banned from raising capital on the EU's capital markets.
The EU sanctions followed a fresh round of US sanctions targeting financial and energy sectors.
Meanwhile on Tuesday, the Swiss government extended sanctions to include 26 people in Russia and Ukraine, as well as 18 organizations, so the country isn't used as a channel to avoid EU and US sanctions.
Japan also joined Western nations in expanding sanctions list against Moscow. The list, made public by the Japanese Foreign Ministry on Tuesday, includes former Ukrainian President Viktor Yanukovich, a number of top figures in the self-proclaimed People's Republics of Donetsk and Lugansk, as well as people believed to be "directly responsible for the annexation of Crimea."
Nevertheless, despite mounting international pressure on Russia, a reputed Putin 'inner circle' figure – businessman Gennady Timchenko - has said recently that the big Russian businesses hurt by Western sanctions will not even think about putting pressure on President Putin, because the interests of the state are at stake in the conflict.
You can share this story on social media: