​'I Like Tits Daily': The strange Twitter habits of David Cameron
Published time: 8 Aug, 2014 14:47
Edited time: 8 Aug, 2014 15:03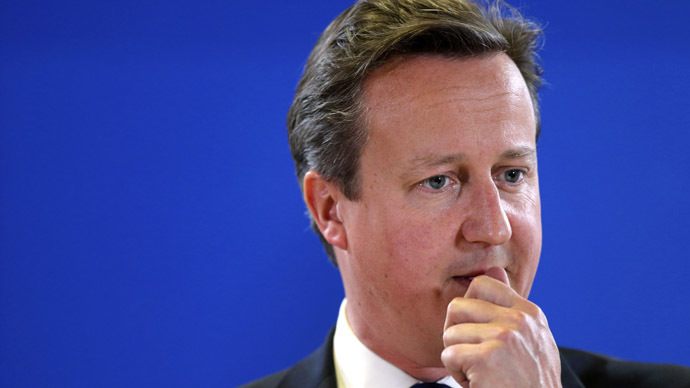 Downing Street's official twitter account 'UK Prime Minister' is following a series of Twitter accounts ranging from the strange to the downright salacious, including one called "I Like Tits Daily."
The account, which describes itself as "the number one Twitter for hotties with nice boobs," is not the only head turner among Cameron's 36,000-strong follower base.
Others being followed by the PM include an American biker gang and a plus-size model who claims to be from "OUTTERSPACE".
Wannabe rappers, and believers in the 'illuminati' were also on the list.
According to Downing Street, the dodgy accounts were followed as a result of software that automatically followed twitter users when they followed the Prime Minister.
They also said that follow backs should not imply any form of endorsement.
"Prior to 2010, an auto-follow process was used, meaning that @Number10gov automatically followed anyone who followed the account," a Downing St. spokesperson told RT.
"As a result of this legacy, the @Number10gov account follows almost 370,000 accounts and we have taken steps to un-follow as many as possible that are inactive, spam or inappropriate. This work is ongoing."
Downing St. said the software, which was used by many corporations and public entities, was discontinued in 2009.
It's not the first time a Conservative party figure has been caught following questionable Twitter accounts.
Former Tory chair, Grant Shapps, faced embarrassment when it was revealed he had been following an account promoting hardcore porn, just weeks before the government was due to introduce an online initiative designed to curb access to adult websites.