Overzealous UK porn filters block 20% of all websites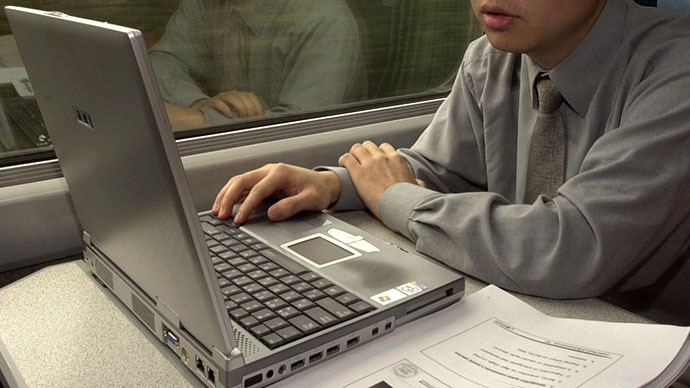 Nearly 20 percent of websites are being blocked by UK government-backed filters, prompting concerns over web censorship, according to a new service created by the Open Rights Group (ORG).
The filters were introduced by internet service providers following measures championed by Prime Minister David Cameron last year to stop children accessing online pornography.
As many opponents of the move warned, a vast number of completely innocuous websites have been caught in the same net. The percentage of sites hosting legal pornographic material online is thought to be close to 4 percent.
According to ORG, a Porsche broker, a political blogger and a mum hoping to read an article about post pregnancy care are among those that have been affected by internet filters, complaining they found a lack of information about how to get sites unblocked.
The new ORG service, "Blocked", checked the 100,000 most-visited websites and found 19 percent had been blocked by the largest ISPs (BT, Virgin, Sky and TalkTalk) and various mobile networks.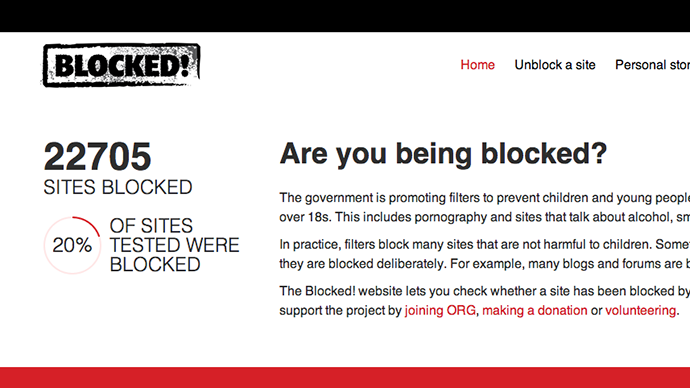 ISPs have played down the level of censorship, claiming the data collected is only representative of the most rigorous filter settings. They claimed they would act on complaints from customers, however.
"BT is committed to working with all stakeholders to minimize instances of over-blocking," a spokesperson for British Telecom told RT. "All our categorization is done by our third party specialist supplier."
"Sites that are believed to be incorrectly blocked by BT Parental Controls can be reported by email. We will then investigate them with our supplier."
A spokesperson for TalkTalk told The Independent newspaper: "We will only filter out blogs and social networking sites when a customer has actively logged into their online account area and chosen to enable filters for this specific type of content."
RT asked the Department for Culture Media and Sport how the government plan to address overzealous ISP filters that create barriers to legitimate health and educational searches.
"Following a request from Government, the UK Council for Child Internet Safety has set up a new working group involving charities and industry to look at the effectiveness of family friendly filters – in particular to check that they are not inadvertently filtering out content providing advice to young people in areas such as sex education," a department spokesperson told RT.
An Ofcom spokesman also told RT: "We are due to report in the next couple of weeks on a government-initiated inquiry into the level of take up and implementation of internet filtering by the big four ISPs."
You can share this story on social media: