British ISIS fighter killed by Iraqi soldiers – reports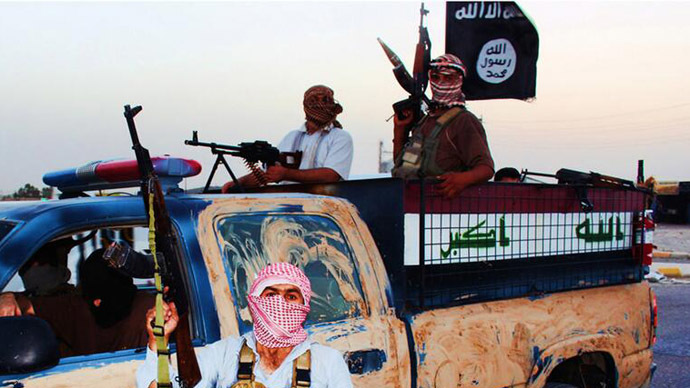 ​A young British man who went to fight in Syria has been shot dead, according to social media reports, after exchanging intense gunfire with Iraqi troops.
The man believed to be Abdul Raqib Amin, 26, and who was known as "Abul Baraa" may be the first UK fighter to be killed while fighting with the Islamist militant group ISIS.
According to social media reports, Amin was killed during a firefight with a SWAT team in the city of Ramadi, 75 miles (121km) from Baghdad.
Amin's death was also confirmed on social media by Abu Dujana al-Muhjahir, a 19-year-old from Portsmouth who also joined ISIS.
"He gave me the news that one of the two British brothrts (sic), Abul Baraa had been martyred in Ramadi, Iraq whilst fighting Iraq SWAT forces" he wrote.
Originally a student from Aberdeen in Scotland, Amin reportedly traveled to Syria, and was seen last month in a recruitment video for the group, alongside two other British men.
In the video, titled 'There is no life without Jihad', Amin asks British Muslims to travel to Iraq and Syria to help the group establish an Islamic State, or caliphate.
"If you sacrifice something for Allah, Allah will give you 700 times more" he says in the video.
"As a Muslim you cannot live in the country of Kuffars [unbelievers]," he adds.
He also appeared on the UK television program 'Good Morning Britain' to defend the actions of ISIS.
Developed as an offshoot of-Al Qaeda in Iraq, ISIS is known for its brutality in areas under its control, and is considered so extreme that even Al-Qaeda's leader Ayman al-Zawahiri has disavowed it.
Led by the mysterious Abu Bakr al-Baghdadi, who earlier this month declared himself to be the new caliph (ruler of all Muslims), the group currently controls significant cities in Iraq including Mosul and Tikrit.
While it is not known how many British citizens have joined ISIS, the UK Home Office estimates that around 400-500 people are currently fighting in Syria. Fearing that they might be radicalized while fighting overseas, the Home Office has threatened to strip them of their passports.
Last month, Prime Minister David Cameron warned that foreign fighters in ISIS posed "the biggest threat" to the UK, while Syria's Deputy Foreign Minister Faisal Mekdad warned the government not to let Britons be killed in the "onslaught" of Syria's civil war.
You can share this story on social media: