Claims of child abuse cover-up heighten tensions in Westminster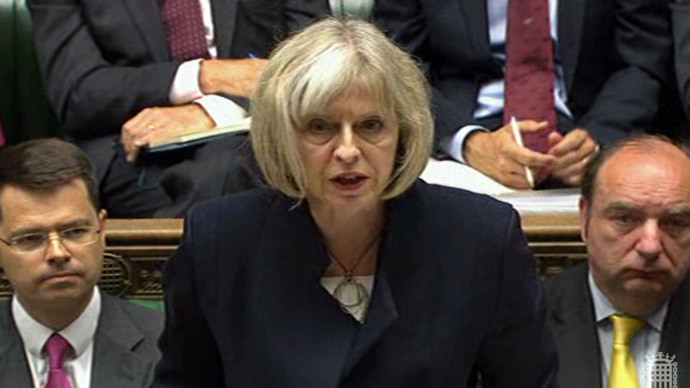 An independent, transparent and comprehensive inquiry into the Home Office's handling of historic child abuse allegations is imminent, said Home Secretary Theresa May.
Speaking in the House of Commons on Monday, May addressed two core concerns: the Home Office's failure to adequately deal with a dossier alleging widespread child sex abuse in the 1980s, and the broader issue of whether state bodies breached their duty of care towards vulnerable children.
With respect to the Home Office's handling of sensitive child abuse files, May stated a government appointed investigator found there was "no single Dickens dossier" and that files were not deleted or destroyed intentionally.
She claimed further the investigator was satisfied all credible evidence relating to the allegations had been passed on to the police.
The Home Secretary pledged on Monday the Government will conduct a full-scale inquiry, consisting of an independent "panel of experts" to decipher whether state bodies and "other non-state institutions" fulfilled their "duty of care to protect children from sexual abuse".
"It will, like the inquiries into Hillsborough and the murder of Daniel Morgan, be a non-statutory panel inquiry. This means that it can begin its work sooner," she said.
NSPCC chief executive, Peter Wanless, will lead the planned inquiry, which is set to review the investigation commissioned by Home Office permanent secretary, Mark Sedwill. It will also assess the manner in which "police and prosecutors handled any related information" that was imparted to them, May told the House.
The Home Secretary vowed the inquiry will unearth institutional failures to protect vulnerable children in a comprehensive and transparent manner.
Shadow secretary, Yvette Cooper, told the House on Monday it is absolutely imperative "strong action" is taken to address the child sex abuse allegations that have infiltrated Westminster. She cited "justice" for victims, and concrete reforms as being paramount.
May's address to the House of Commons follows Lord Tebbit's recent claims of a potential political cover-up orchestrated to protect establishment figures in the 1980s. Tebbit, a cabinet minister from the Thatcher era, suggests child abuse allegations against UK politicians in the 1980s may well have been intentionally quelled.
Commenting on The Andrew Marr Show, he said: "At that time I think most people would have thought that the establishment…was to be protected and if a few things had gone wrong here and there that it was more important to protect the system than to delve too far into it."
Former Home Secretary, Lord Brittan, who was issued the dossier of files relating to child sex allegations by MP Geoffrey Dickens, has been accused of failing to deal with the matter adequately. But according to the Press Association, Brittan has vehemently denied such claims, stating they are "completely without foundation".
Currently touring India with William Hague, Chancellor George Osborne insists it's essential the truth behind allegations of UK politicians' involvement in paedophilia is uncovered.
As was reported by the Guardian, Osborne stated on Monday: "We need to get to the truth … we need to get to the bottom of what happened in many of our institutions, including potentially at Westminster."
You can share this story on social media: