PM Cameron gets 'fracked' by UK environmental activists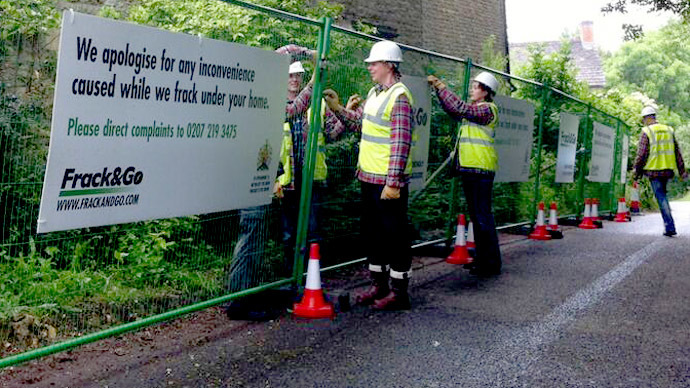 British PM David Cameron's country home has been 'fracked' by environmental activists in protest against the exploitation of shale gas. The protest comes as the Queen announces changes to trespassing laws that will pave the way for fracking across the UK.
Environmental activists have sent a powerful message to the British Prime Minister over plans to exploit reserves of shale gas in the UK through a process known as hydraulic fracturing, or fracking.

Greenpeace activists gathered at Cameron's country home in the Cotswolds and gave him a taste of what mass fracking might bring to Britain.

The 'frackivists' blocked the entrance to the house, erecting metal fences and suspending a sign that read "We apologise for any inconvenience we may cause while we frack under your home."

"David Cameron wants to rob people of their right to stop fracking firms drilling under their homes – surely he won't mind if we kick off the under-house fracking revolution below his own garden," said Simon Clydesdale, a Greenpeace UK energy campaigner.
We're fracking outside @David_Cameron's des res, and even provided compensation. £50 should cover it pic.twitter.com/Xpbn0je7kj

— Greenpeace UK (@GreenpeaceUK) June 4, 2014

The protesters then attempted to deliver a giant, novelty check for 50 pounds (US$84) – the amount ministers have said will be compensated to individual homeowners if fracking is conducted on their property. Activists have stepped up their efforts recently to oppose a bill that would allow fracking companies to drill on private land without permission.

The queen announced the controversial bill on Wednesday to allow fracking companies access to private land.

"My government will introduce a bill to bolster investment in infrastructure and reform planning law to improve economic competitiveness," said Queen Elizabeth II at the official opening of parliament. She added the changes would "open up access to shale and geothermal sites."

Leading companies in the fracking industry have said that if the legislation does not pass it could be the death knell for the industry in Britain.
Sorry for the inconvenience @David_Cameron, but the fracking revolution stops for no one pic.twitter.com/CeUL7rfOIk

— Greenpeace UK (@GreenpeaceUK) June 4, 2014
Cuadrilla chief executive Francis Egan previously told the Times it would be "impractical" to negotiate with every individual landowner.

Opposition to the bill says that depriving citizens' of their right to stand up to fracking companies is a step too far. A YouGov poll last month revealed that over 74 percent of those asked opposed the mass exploitation of shale gas in the UK.

The practice of fracking entails blasting fissures in rocks thousands of meters underground with water, sand and chemicals to release trapped stores of gas and oil. However, the process is far from failsafe. In the past, investigations have shown that fracking wells can contaminate water supplies and even cause earthquakes. In fact, the practice was discontinued in Britain in 2011 after it was connected to a number of minor earthquakes in the north of England.

Despite opposition, the government has championed hydraulic fracturing as Britain's answer the rising energy prices and unemployment. Environmentalists believe the government would be better off investing more in renewable energy source to increase the UK's energy independence.
You can share this story on social media: