'Fracking is good for us': Cameron seeks to steer EU away from Russian gas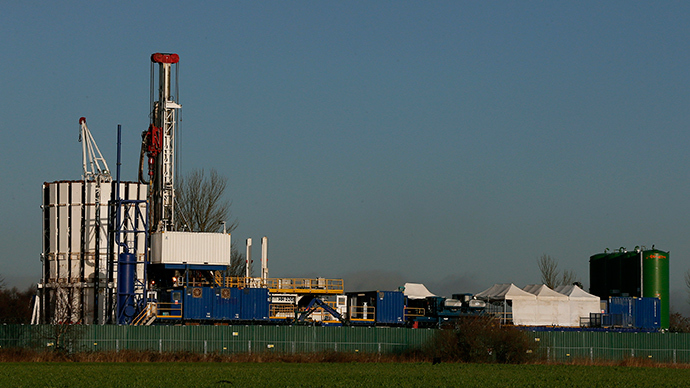 UK Prime Minister David Cameron has used the Hague talks on the Crimea crisis to stress that fracking is "good" for his country, in an apparent attempt to use fears about EU dependence on Russian gas to promote his government's pro-fracking agenda.
The British Prime Minister placed the popular blame with "a lack of understanding" of the process, believing that once the wells are up and running, the "uncertainties and concerns" people had would go away and one would hear "more directly from local people about what [hydraulic fracturing] has meant for their communities."
The need for fracking is greater than ever, Cameron said at the Nuclear Security Summit in The Hague, saying that Russian behavior in Ukraine didn't go as planned and a search for alternate sources needed to be at the top of Europe's energy agenda, Reuters reports.
"Some countries are almost 100 percent reliant on Russian gas, so I think it is something of a wake-up call," Cameron told reporters Tuesday, following a decision made the previous day at a G7 meeting. To reduce dependence on Russia, he argued, the EU would need to tap the vast shale gas reserves found in southeastern Europe, as well as in Poland and the UK.
Although this is a strategy for the whole of Europe, not all its members are equal buyers of Russian gas. The UK purchases only a small amount; but the EU as a whole accounts for about one-third of Russia's exports, 40 percent of which pass through Ukraine. There has even been talk of importing gas from the US, as well as using the continent's collective purchasing power to pressure Russia into better deals.
Meanwhile, Britain has been buying from Russia directly, after a 2012 deal that promised direct purchasing in October 2014. The deal is still alive, despite UK's calls for a move away from dependence on Russia, whose exports provide up to 15 percent of the country's gas needs. UK's own gas production is falling by 7 percent annually, as the country looks for alternate sources.
The Ukrainian crisis, however, had no notable effect on gas imports to Europe itself.
The practice of fracking has received a widely negative reputation both inside and outside the UK. The United States has seen mass demonstrations by victims of its chemical fallout, accompanied by studies showing spikes in hereditary conditions found in newborn children of families living anywhere near a fracking well, as well as reports that fracking causes earthquakes and destruction. The evidence against it is overwhelming.
But Cameron was defiant: "When I look at a lot of the concerns expressed… I think there's a really good answer to all the questions. So I'm confident we'll win the argument," he told reporters.
"So I think it's a good opportunity. Energy independence, using all these different sources of energy, should be a tier-one political issue from now on, rather than tier five," Cameron said.
This address promptly received criticism from environmental groups such as Greenpeace, who accused the PM of cynicism and an attempt to use the Ukrainian crisis as a springboard for fracking. They further add that the practice wouldn't be anywhere near the scale Cameron wants for another 10 years or so. The first to suffer wouldn't be Russian imports, but Britain's own alternate sources of gas.
You can share this story on social media: