Fracking study finds combustible levels of methane in water after EPA gave the all clear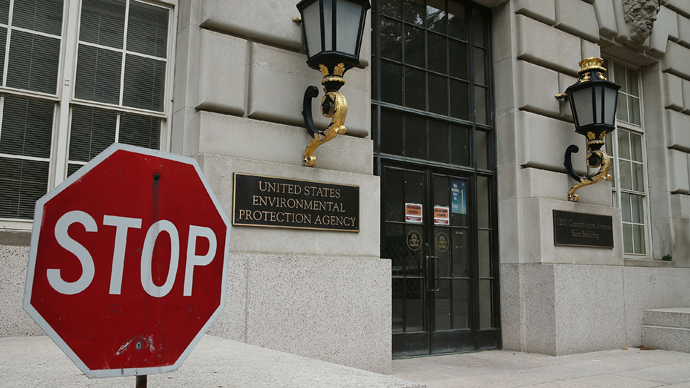 A report has found contaminated drinking water in parts of Texas, infuriating residents who had pressured the EPA to test for methane only to see the agency back off when the company allegedly responsible claimed that its own tests proved otherwise.
Steve Lipsky, a resident of Fort Worth, Texas, complained to the Environmental Protection Agency that his family's water seemed to be bubbling in a way that made it appear similar to a glass of champagne. The EPA issued an emergency order and immediately began investigating in December of 2010, warning at least two families that their water supply may be contaminated with flammable methane.
The EPA dropped its investigation, rescinding its emergency order, and then refused to explain its reasoning. Documents later obtained by the Associated Press revealed that the EPA did indeed have evidence against Range Resources, which operated a drill near Lipsky's home, but decided to drop its investigation when company executives threatened to pull Range Resources out of a national study into hydraulic fracking.
Documents further indicate that the EPA ignored analysis that the contamination was the result of drilling and relied on tests conducted by Range Resources, which found no evidence of contamination.
Now, another full year later, an independent study conducted by Duke University has determined that combustible levels of methane do exist in wells near Weatherford, Texas and recommends that the EPA re-open its investigation. The results, published Friday, seem to validate local residents' assertions, including Steve Lipsky's claim that his well water will actually ignite when he holds up a flame.
"I don't understand why they would let the company that was accused of doing the wrongdoing conduct the tests," resident Shelly Purdue told Bloomberg News. "It doesn't make any sense."
Duke researchers found 54.7 milligrams per liter of methane in a random sample of drinking water in December 2012. Curiously, the Range Resources study conducted just a month earlier found a mere 20 milligrams and 4.2 milligrams in mid-2012.
Energy companies use hydraulic fracturing, better known as "fracking," to drill through think layers of rock to access oil and gas reserves previously considered to be out of reach.
Environmentalists have asserted that this practice is harmful, especially because of the risk it presents to the drinking water consumed by the rest of the general population.
One reason the EPA has been so soft on the industry, critics say, could be because the agency is reluctant to stand in the way of what has quickly become a very profitable business model. A Range Resources spokesman said the company's testing was conducted by an independent researcher, as well.
"Range used state and federally approved testing methodologies that are internationally recognized and those results have found historically consistent water quality," Matt Pitzarella told Bloomberg. "Range's operations did not cause or contribute to the long-standing and well-documented matter of naturally occurring methane."
Lipsky said he now spends approximately $1,000 each month to bring water to his home. He described the experience as "total hell" and has wondered whether his family will have any choice other than relocate. He has waged his own legal battle against Range Resources and has refused the company's explanation.
"I just can't believe that an agency that knows the truth about something like that, or has evidence like this, wouldn't use it," he told the AP.
Fracking opponents have criticized President Obama, lawmakers and the EPA for their apparent unwillingness to rein in the influential gas and oil companies. Dr. Sheila Bushkin of the Institute for Health and the Environment at University at Albany wrote in a blog post that the issue is much more important than the usual political finger-pointing, though.
"When you listen to the personal experiences of actual residents of Pennsylvania and other states where fracking has gone forward, you will hear stories of dead cows, pets, sick children, poisoned water, and other serious health and environmental problems," she wrote. "These stories confirm our need for much greater research and evidence-based scientific facts."
You can share this story on social media: