The Swede smell of success in Bandy World Champs thriller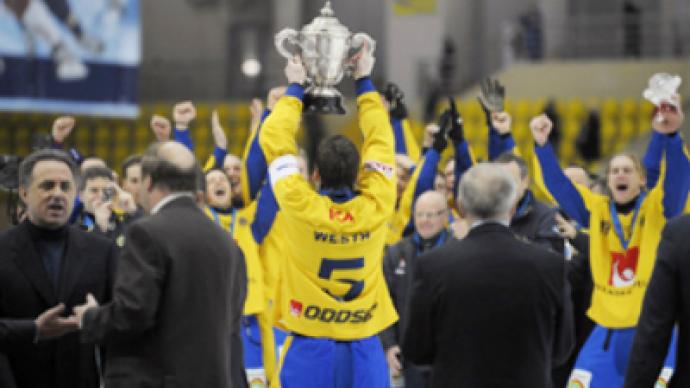 Russia have failed to win the Bandy World Championship for a 20th time, losing to Sweden in the final late on Sunday.
It was an easily predictable pair of finalists, but that did not make the decider for the 2010 Bandy World Championships any less interesting.
Sweden were the reigning champions heading into the match, while Russia had beaten their great rivals in the group stages.
Sunday's clash went in much the same vein as on Thursday – the home side was trailing but always managed to cut the deficit.
They were a goal down in the dying moments of the game, but managed to take it to overtime through Pavel Ryazantsev.
However, in the extra period the Swedes rode their luck and grabbed the winner in the 110th minute.
"I think the Swedes deserved the win today. Actually in fact, both of the teams did. But only one gets the title. So I'm very disappointed, especially because we failed to get a victory here in Moscow," forward Sergey Lomanov said after the match.
Bronze medals came to team Finland, who defeated Kazakhstan in the third-place match 4-3, also in overtime.
The next Bandy World Championships will also take place in Russia, in Kazan, where no doubt Lomanov et al will be seeking revenge over their arch rivals.
You can share this story on social media: