Russian relay team finish second behind Norway at biathlon Worlds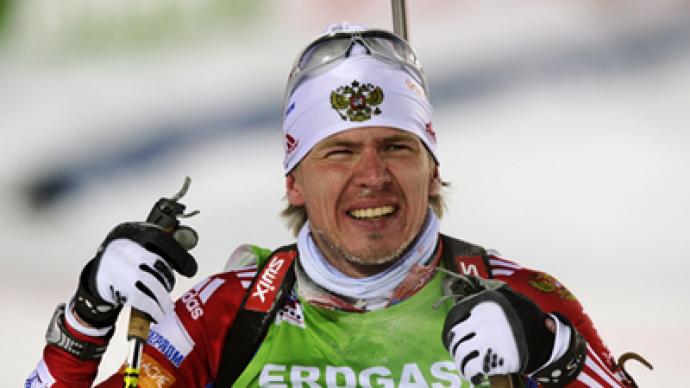 Hosts Russia have grabbed their second silver medal at Biathlon World Championships in Khanty-Mansiysk, coming second in men's relay race.
Favorites Norway took the well-deserved gold, with Ole Einar Bjoerndalen, Alexander Os, Emil Hegle Svendsen and Tarjei Boe needing 1 hour and 16 minutes to cover the distance of 4 x 7.5 kilometers. The Russian quartet of Anton Shipulin, Evgeny Ustyugov, Maksim Maksimov and Ivan Tcherezov were among the leaders from the very start, challenging Germany for silver. The home favorites, who avoided penalty laps, took the upper hand due to some poor shooting from veteran Michael Greis, which saw Germany lose out on a podium spot.Russia finished 13 seconds behind Norway, and some 14 seconds ahead of Ukraine, who score a surprising bronze. This was Russia's second medal at the home World Championships as Maksim Maksimov also got silver in the men's individual race.     The overall medal count is topped by the Norwegians, so far bagging six medals (three golds, one silver and three bronze). Germany are right behind with five medals (three gold and two silver).The men's and women's mass-start races are next on the schedule in Khanty-Mansiysk, with both events to take place on Saturday, March 12.
You can share this story on social media: