Norway grabs mixed relay gold at biathlon Worlds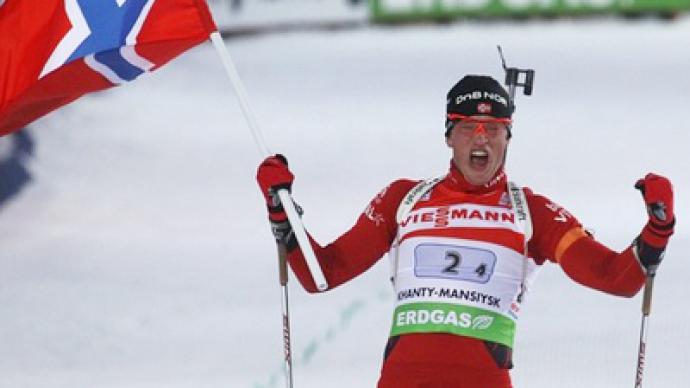 The Norwegian team has won the first gold of the biathlon World Championships in Khanty-Mansiysk, with hosts Russia being left without medals.
The 44th Biathlon Worlds kicked off with the mixed relay race on Thursday. The event is the newest addition to the world championship program, in which the teams consisting of two women and two men take part.   Norway and Germany were battling it out for the gold from the start, with the Norwegian quartet of Tora Berger, Ann Kristin Flatland, Ole Einar Bjoerndalen and Tarjei Boe beating their rivals by 22.9 seconds. Germany took silver (Andrea Henkel, Magdalena Neuner, Arnd Peiffer, Michael Greis), while Marie-Laure Brunet, Marie Dorin, Alexis Boeuf and Martin Fourcade brought bronze to France. Team Russia was third to appear on the track. Svetlana Sleptsova, who began the race for the hosts, was followed by Olga Zaitseva, men's Olympic champ Evgeny Ustyugov and Ivan Cherezov.  Despite the huge crowd's support, the home favorites had too many misses and finished only 6th, their worst result of the season.   A total of eleven competitions – sprint, pursuit, individual, mass start, and relay races for men and women, and mixed relay – are planned for the ten-day event.Next on the schedule are men's and women's sprint races, to take place on Saturday, March 5.
You can share this story on social media: