"I want to shake hands with Bolt and Phelps" – Paralympic hero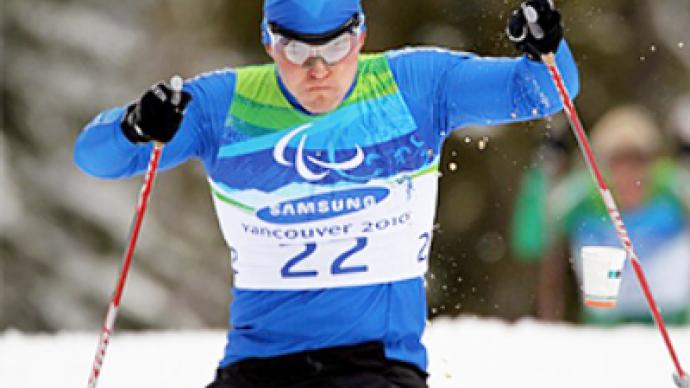 Skier and biathlete Irek Zaripov, who won four gold medals at the Winter Paralympic games in Whistler, says he admires sprinter Usain Bolt and swimmer Michael Phelps and wants to shake their hands.
The 26-year-old athlete grabbed Russia's first in 2.4 kilometer men's pursuit race, and after that he added three more golds in biathlon and cross-country skiing.
"The coach's plan was to win one gold medal, but nobody could predict that we would be so successful. But we were approaching this target for the past eight months," Irek Zaripov told Sport-Express newspaper.
"We trained six times per week and skied 150 kilometers. Willpower is not worked out during training, but we train hard and improve our stamina," he added.
Irek Zaripov lost his legs in a car accident, but he believes a man has to keep living and try to be useful no matter what.
"Paralympic sport is my life, my job and wellbeing of my family. It is an example for other people, who do not need to lose heart; they need to try to achieve success despite their problems," the champ said.
"Life is going on no matter if you lost your legs or become disabled because of illness. Even if it happens you can still help society," he added.
Zaripov, for whom Vancouver was his second games, won his medals in skiing and biathlon, and he says skiing is the discipline he enjoys the most.
"In biathlon you need good luck and everything depends on your shooting, weather and wind, so I like cross-country skiing more, because your result depends only on your training," he said.
Talking about the athletes, whose achievements inspired him the most, he mentioned three-time Olympic champ sprinter Usain Bolt of Jamaica and US swimmer Michael Phelps, who has won 14 golds in total from Olympic Games.
"When I watched the Beijing Olympics I liked the Jamaican sprinter Usain Bolt. I also admired Michael Phelps. Maybe if I meet them, I can shake hands with them," he said.

The 2010 Vancouver Paralympics have come to a close on Sunday, with Russia topping the overall medal table with an impressive tally of 38 (12 gold, 16 silver and 10 bronze).
You can share this story on social media: