Biathlon star Olga Zaitseva delays retirement until 2014
Published time: 25 May, 2011 20:30
Edited time: 26 May, 2011 00:50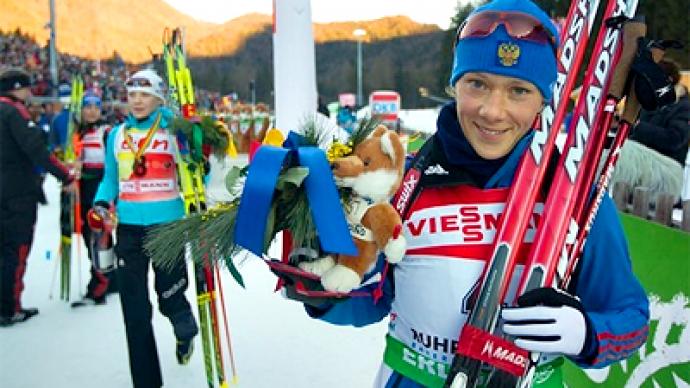 Russian biathlon fans will get to enjoy three more years of watching Olga Zaytseva. The 2006 and 2010 Olympic gold medalist has backtracked on her announced retirement, saying she will keep competing until 2014.
Zaytseva, who celebrated her 33rd birthday last week, was one of the few bright spots during Russia's disastrous Vancouver Olympics last year.
A gold medal in the 4x6 kilometer relay and a silver in the 12.5 kilometer mass start were added to her collection in Canada.
However, Russia's national team coach, Anatoly Khovantsev, was later sacked after a poor run of results at the 2011 World Championships in Khanti-Mansiysk, which likely compelled Zaytseva, the team's leader, to announce retirement.
On Wednesday, though, Zaitseva said she felt reenergized, having taken time off following a turbulent year.
"Last season was very difficult for everyone on the team, myself included," the Olympic champion said. "That is why I announced my retirement after considering it all last year… Now that I was able to get some rest, I reconsidered and will continue my career until 2014. One of the most important factors was my desire to mentor and support the up-and-coming and inexperienced stars, as I am the leader of the team. Besides that, I've still got plenty of individual goals in the sport and ultimately felt it was too early to leave."