Russian wins biathlon season-ending event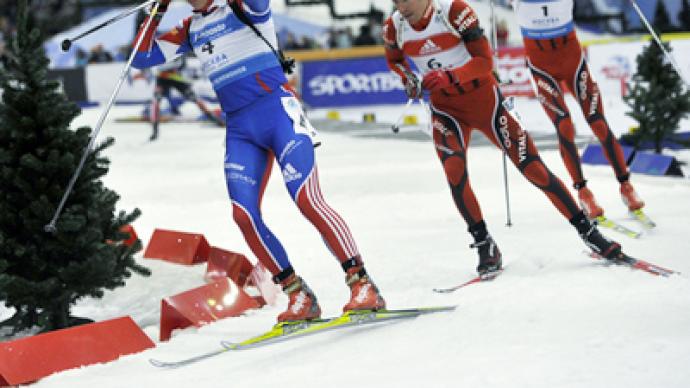 Russia's Svetlana Sleptsova won the women's mass start in Moscow at the weekend. The Champions Race saw biathletes competing indoors for the first time in Russia.
It's become a regular feature in Germany's Biathlon calendar. But this was the first time the sport had ever been held indoors in Russia – and there was plenty of interest, as the Olympiyski Stadium was packed to capacity,Most of the top names decended on Moscow, and they said they were delighted to see what the Russian capital has to offer.The men's race, saw three Russian's competing – Evgeny Ustyugov, who won Olympic gold in Vancouver last year, as well as Ivan Cherezov and Anton Shipulin. However, there was plenty of competition with the likes of Tarjei Boe, Bjorn Ferry and Michael Greis – all Olympic Champions.Russia hasn't had the best of seasons on the World Cup scene, and unfortunately the locals weren't able to cheer a home victory.Ivan Cherezov was there or there abouts for much of the race, but victory eventually went to Boe.There were two Russian entries in the women's event – Olga Zaitseva and Svetlana Sleptsova.While there was also another Russian, Anastasia Kuzmina, competing for Slovakia. She was born in born in Siberia – and she won a gold in Vancouver last year.Like the men's event, the women's race proved to be a tight affair, with the Ukrainian sisters, Valentina and Vita Semerenko setting the early pace.However, it was Sleptsova who stepped up a gear following the final shoot, and she would go onto claim victory – and finally give Russia's long suffering Biathlon fans something to cheer about.The Champions Race has proved to be very popular with the locals, and for many of them it was the first time they had the chance to watch the sport live. And indoor events like this are only likely to gain in popularity, especially as it's an excellent way of bringing the sport to the masses.
You can share this story on social media: