Ustyugov brings hosts Russia mass start silver at Biathlon Worlds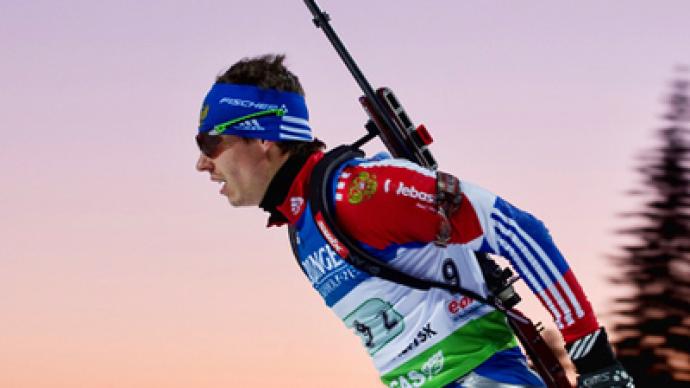 Russia's Evgeny Ustyugov has won Russia's third silver at the home Biathlon World Championships in Khanty-Mansiysk, finishing second in the men's mass start race.
The victory went to Emil Hegle Svendsen, who increased Norway's medal-count lead as the Scandinavians now have for golds, one silver and three bronze medals.Perfect rifleman Ustyugov led the race after the last shooting range, but Svendsen, who is known as a great skier, surpassed him in the final meters on the 15-kilometer distance. The bronze went to Lukas Hofer, with the Italian taking his first ever World Championship medal.There were two more Russian biathletes in the Top 10, as Ivan Cherezov and Andrey Makoveev finished fifth and seventh, respectively.  Neuner races for second gold in Khanty-Mansiysk Earlier on the day, Magdalena Neuner triumphed in the women's mass start, grabbing her second gold medal in Khanty-Mansiysk, with the best of the Russian team, Olga Zaitseva, finishing in sixth place.The German demonstrated great speed on the distance, cruising to victory, despite having to run four penalty laps. The 24-year-old needed just over 38 minutes to cover 12.5 kilometers of the race.Belarusian Darya Domracheva took silver, while Tora Berger settled for bronze.Home favorite Olga Zaitseva came in sixth, with the rest of her compatriots – Ekaterina Yurlova and Anna Bogaliy-Titovets – failing to make it to the top ten.The Russian girls have so far been unable to win a single medal at their home World Championships, with three of the hosts' silver medals being delivered by men.The action in Khanty-Mansiysk comes to a close on Sunday with the women's relay race.
You can share this story on social media: