US skater who escaped doping ban wants Russian star punished
Jessica Calalang claimed Kamila Valieva should be sanctioned despite previously facing her own battle with the anti-doping authorities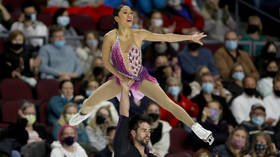 US pairs skater Jessica Calalang – who faced an eight-month bid to clear her name with the anti-doping authorities in 2021 – has called for Russian teenage star Kamila Valieva to be sanctioned in her ongoing case with WADA.
The World Anti-Doping Agency (WADA) announced on Friday that it had been informed that Valieva "bore no guilt or negligence" following a ruling by a Russian anti-doping committee. The tribunal made the ruling based on an investigation into Valieva's positive test for banned heart medication trimetazidine in a sample dating from December 2021.
WADA responded to the news by saying it would consider the reasoning by the Russian tribunal, but did not rule out turning to the Court of Arbitration for Sport (CAS) – where it has already filed a complaint seeking a four-year ban for Valieva.
Weighing in on Twitter, three-time US national silver medalist Calalang suggested that the Russian investigation into the 16-year-old Valieva had been rigged.
"Hmm… this seems totally fair and unbiased," tweeted Calalang, adding an upside-down smiley and sharing the text of the WADA statement on Valieva. "Doping is doping which should automatically equal a sanction. WADA needs to appeal. THE END," wrote the American.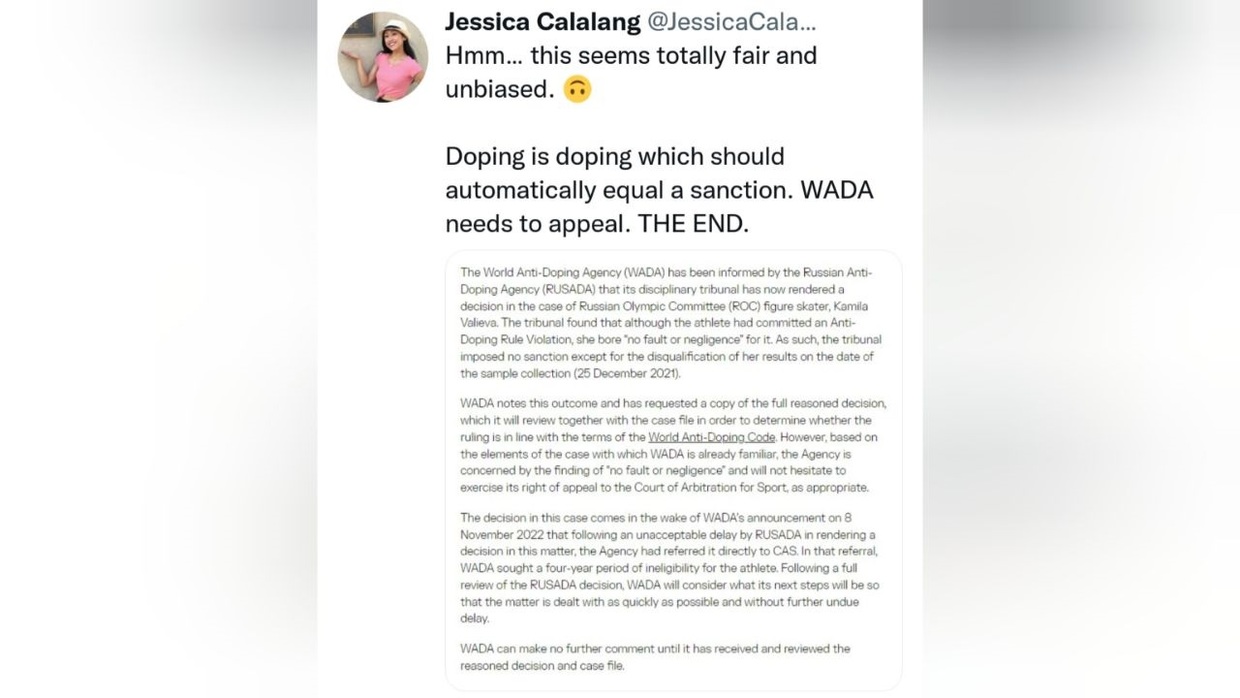 The comment echoed the sentiment expressed across much of the Western media in Valieva's case, although some of the responses to Calalang's tweet noted that she had first-hand experience of being implicated in a doping investigation.
In Calalang's case, she faced an eight-month battle to clear her name in 2021 after testing positive for 4-chlorophenoxyacetic acid (4-CPA) in a sample taken in January of that year. The substance is a known metabolite of meclofenoxate – a stimulant which was prohibited by American anti-doping agency USADA.
Calalang and her pairs partner Brian Johnson were forced to withdraw from the World Championships in March 2021 and were initially unable to compete in any official US figure skating events while her case played out.
Calalang, 27, was eventually cleared following an investigation by USADA, which discovered that a non-prohibited substance which is found in shampoos and lotions, chlorphenesin, can metabolize into 4-CPA.
A similar finding had been made in a case involving UFC fighter Rob Font, who had been cleared earlier that year after it was found that cosmetic products he used before a fight resulted in a positive test.
"I had used all the same makeup before," Calalang said at the time of her case, describing the situation as "just a big shock to me." She was eventually fully cleared of any violations by UASADA and WADA at the end of September 2021. However, she and Johnson did not make it to the Beijing Winter Olympics in February 2022, with Johnson announcing his retirement last April, signaling the end of their partnership.
Meanwhile, the case of Russian star Valieva seems set to drag on. The news of her positive test for banned heart medication trimetazidine first emerged at the Beijing Winter Games in February last year, based on a sample collected six weeks previously at the Russian championships.
Valieva had already won gold in the figure skating team event at the Olympics before her positive test was reported, and she was cleared to compete in the individual competition in Beijing by an emergency CAS panel. In the end, Valieva finished a disappointing fourth despite being the strong favorite for gold.
Due to Valieva's age and her status as a "protected person," Russian officials have defended their right not to disclose the full details of her case. However, it emerged during the CAS hearings in Beijing that Valieva's team had argued that the positive test may have resulted from contamination via heart medication her grandfather was taking.
Despite being cleared of negligence by the Russian anti-doping hearing, Valieva did have her results annulled for the day of her positive test on December 25, 2021 – meaning she lost the Russian national title she won on that date.
You can share this story on social media: