US demands action after Valieva cleared in doping case
The head of the US Anti-Doping Agency expressed anger after the figure skater was found to have 'no fault or negligence'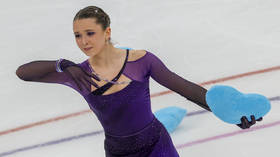 US anti-doping chief Travis Tygart has claimed that the world "cannot accept" the decision by a Russian disciplinary tribunal to clear Olympic figure skater Kamila Valieva of wrongdoing following an investigation into her doping case.
The World Anti-Doping Agency (WADA) said on Friday that it had been informed by the Russian Anti-Doping Agency (RUSADA) that Valieva bore "no fault or negligence" for the positive sample she returned for banned heart medication trimetazidine in December of 2021.
WADA said it will review the decision before potentially disputing it at the Court of Arbitration for Sport (CAS) in Switzerland. WADA is already seeking a possible four-year ban for Valieva after filing a complaint with CAS in November.
The US Anti-Doping Agency (USADA) has also weighed in, claiming on Friday that WADA and the International Skating Union (ISU) must act against the outcome of the Valieva investigation.
"WADA and the ISU have to appeal this decision for the sake of the credibility of the anti-doping system and the rights of all athletes," Tygart said. "The world can't possibly accept this self-serving decision by RUSADA."
Tygart claimed that RUSADA has been an "instrument of Russian state-sponsored doping fraud," even though the anti-disciplinary committee (DAC) which ultimately ruled on Valieva's case operates as an independent body.
RUSADA director general Veronika Loginova said on Friday that her organization was still awaiting the full reasoning from the DAC behind its decision on Valieva before deciding on its next steps.
Valieva returned a positive test from a sample taken on December 25, 2021, when she was competing at the Russian Championships. The sample was tested at a WADA-accredited laboratory in Stockholm, Sweden, but the result was only reported in February 2022 – after Valieva had already won gold with Russia in the figure skating team event at the Winter Olympics in Beijing.
Valieva, who was 15 at the time, was cleared by an emergency CAS panel to compete in the Olympic individual event, but finished a disappointing fourth as the weight of the scandal proved too much.
The medal ceremony for the Olympic team event has yet to be held. Should WADA successfully challenge the results of Valieva's case, it could lead to the Russian team being stripped of gold and the USA elevated to first place, followed by Japan in silver and Canada in bronze.
Valieva's coaching team have maintained her innocence throughout the case, arguing that the positive test result may have come as a result of contamination via medication her grandfather was taking. Russian officials also said that Valieva passed doping tests on other occasions.
As a result of the investigation, the Russian disciplinary hearing ruled that Valieva should be stripped of her results from the date of the probe, meaning she will lose the national title she won in December 2021, although no further punishment was recommended.
You can share this story on social media: