'Russian Rocket' Trusova eyes revolutionary figure skating feat
The Russian star has already made history – but is intent on breaking new ground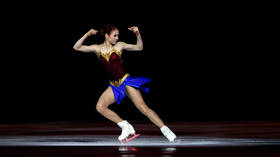 Russian 'Quad Queen' Alexandra Trusova has suggested she could take figure skating to the next level by learning a five-revolution jump – something no athlete has ever achieved in competition.
Trusova, 17, made history on her way to winning silver at the Beijing Winter Olympics in February by becoming the first female skater ever to land five quadruple jumps in a single routine.
But the star nicknamed 'The Russian Rocket' is not prepared to rest on her laurels and has revealed that she would be keen on nailing a 'quint' – a feat which has so far been beyond the reach of any skater, male or female.
"Five rotations? I would like to try to learn. If it works out, I want to do it first," Trusova told the Waction YouTube channel.
"Not only among women. No one has tried quintuples yet."
Trusova's performance at the Olympics was overshadowed somewhat by her outburst after being forced to settle for silver behind countrywoman Anna Shcherbakova.
The flame-haired skater was heard vowing to quit the sport, although that impulsive response to her disappointment appears to have since dissipated.
Indeed, Trusova's legion of fans has already been treated to glimpses of what might lie in store for her new routines at a series of post-season exhibition shows in recent days.
Rather than calling time on a career that has also yielded two World Junior Championship titles as well as bronze medals at the senior World and European Championships, Trusova signaled she is hungry for more success.
"I did five quads [in one routine] in order to win competitions," Trusova said of her history-making routine.
"Of course, I really wanted to do them first. So I added and added. It is very difficult for me to stand still. I need to learn something new, I like it."
That desire to overcome barriers may well see Trusova attempt to land a quint, although the feasibility of any figure skater achieving the landmark in competition has been fiercely debated.
US magazine Slate ran a feature during the Beijing Games on whether the move was possible, quoting American Olympic star Nathan Chen as saying he had contemplated working on a quint, but that "the risk for injury is so high that it's also not really worth it right now."
"I would love to see a quint at some point," Chen added.
Others have pointed out that quads were once seen as unattainable, but are now routinely landed by the likes of Trusova, Olympic champion Shcherbakova, and fellow Russian teenage sensation Kamila Valieva.
"The quadruple jump was previously considered as an unrealistic thing for human beings, but now the fact that so many skaters hit it almost naturally means somebody will land a quintuple someday," two-time Olympic medalist Shoma Uno said back in 2019.
Russian youngster Maxim Belyavsky made headlines when he landed a quint in training three years ago, although he was wearing a pole harness and his efforts have not materialized into the move being performed in competition.
You can share this story on social media: