Ice ice baby! Budding Russian skating sensation, 12, lands quintuple jump at training (VIDEO)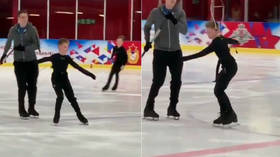 Russian figure skating prodigy Maxim Belyavsky has wowed fans by successfully landing a quintuple jump at a training session, performing the never-before-seen routine element with help of a pole harness.
The 12-year-old talent, who has been trained by 1998 world junior silver medalist Sergei Davydov, confidently nailed the fully rotated quintuple toe-loop while being held by a pole safety harness, in the hands of a coach, which prevents potential injuries and falls.
Belyavsky has become the first male skater to execute a quintuple jump, with quads being the most complicated elements performed at figure skating events.
The International Skating Union (ISU) doesn't even have a starting value for a quintuple jump in its scoring table, as the element has never been presented at either junior or senior levels.
The Russian sensation is on the verge of making revolutionary changes in modern figure skating if he succeeds in landing the enormously difficult quintuple jump without the aid of a pole harness.
Also on rt.com
Russia's 'most beautiful figure skater' quells retirement rumors (PHOTOS)
You can share this story on social media: