'My pain is not your entertainment': US gymnast addresses fans who shared video of horrible injury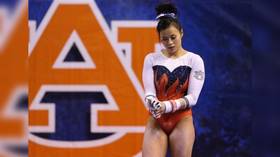 US gymnast Samantha Cerio, who broke both legs during a regional gymnastics contest, has called on her followers to stop sharing the video of her gruesome injury, as it makes her go through intolerable pain again.
The 22-year-old shared emotional messages on Instagram, emphasizing that numerous images and videos of her catastrophic landing make her feel like she is "getting injured over and over again."
READ MORE: US gymnast breaks both legs in career-ending accident (GRAPHIC VIDEO)
"Those of you posting and tagging me in the video of my injury, I am asking you to please stop," Cerio wrote.
"Going through the pain and seeing my knees bent unnaturally in real life was horrible enough, but continue to see it from videos/pictures because some people feel entitled to repost it is not ok. I have family, friends, and teammates who do not need to see me getting injured over and over again. My pain is not your entertainment," the gymnast added.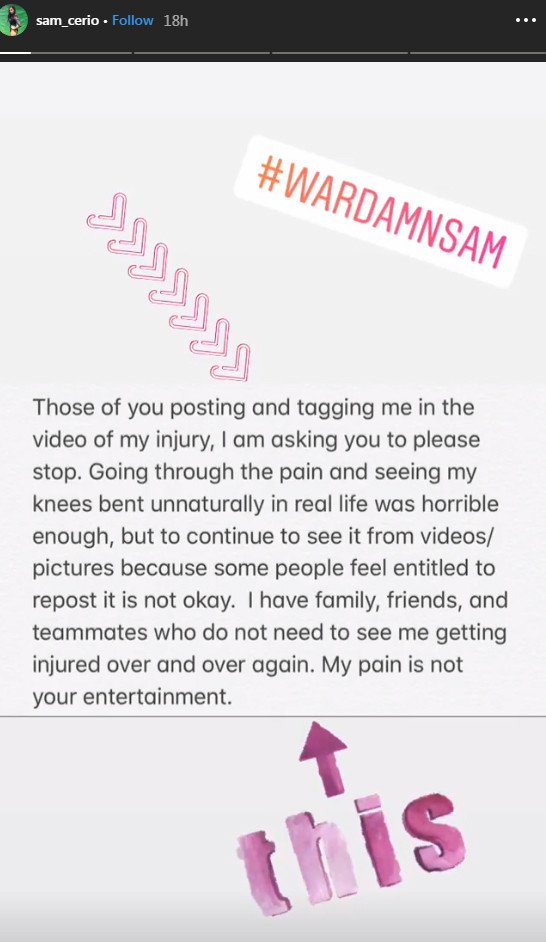 Cerio was doing her floor routine at a National Collegiate Athletic Association (NCAA) Baton Rouge Regional event (Louisiana) last week, when she awkward landed on the first tumbling pass, leading to a career-ending injury with both of her legs being broken.
READ MORE: US gymnast undergoes surgery on broken legs after horrific injury
On Monday, the gymnast underwent a surgery and voiced hopes to fully recover before her wedding in June when she will marry her fiance Trey Wood.
You can share this story on social media: