US gymnast breaks both legs in career-ending accident (GRAPHIC VIDEO)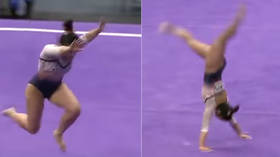 US gymnast Samantha Cerio has announced her retirement from sport after sustaining a gruesome injury during the National Collegiate Athletic Association (NCAA) Baton Rouge Regional event.
Cerio, who represented Auburn University, was severely injured during her floor routine, breaking both of her legs after a catastrophic landing on a gym mat.
READ MORE: 'Culture of sexual abuse': Senator says US figure skating needs immediate change
The gymnast was just in the beginning of her floor routine when she attempted a handspring double front flip with a blind landing on her first tumbling pass and landed awkwardly on the mat with her legs going backwards.
WARNING: THIS VIDEO CONTAINS GRAPHIC FOOTAGE THAT SOME MAY FIND DISTURBING
Samantha Cerio was making her first pass when she fell on the blind landing. The crowd gasped as Cerio, a senior on the team, attempted a handspring double front but fell to the mat and screamed out in pain pic.twitter.com/BYP0cZNezO

— salah alzeer (@Zeer804Salah) 8 апреля 2019 г.
Unable to move following the horrific landing, Cerio was screaming and crying in agony before tournament officials and teammates rushed to help her.
The severely injured athlete was accompanied by a standing ovation while being carried on a stretcher from the venue.
"It was pretty tough to watch," Auburn coach Jeff Graba said.
"She's a trooper. The last thing she said was, 'Go help the girls.' The girls rallied around her. They're doing this for her right now," he added.
The shocking accident which reportedly led to a double leg fracture and double knee dislocation put an end to Cerio's sporting career, with the gymnast announcing her retirement on Sunday.
"Friday night was my final night as a gymnast. After 18 years I am hanging up my grips and leaving the chalk behind. I couldn't be prouder of the person that gymnastics has made me to become," the gymnast wrote on her Instagram page.
Cerio thanked all of her teammates for support adding that she hadn't planned to end her career the way she did.
"It may not have ended the way I had planned, but nothing ever goes as planned," she wrote.
You can share this story on social media: