'We have to pressure them': Hockey chief wants new rules in Ukraine after black player leaves club over banned star's monkey taunt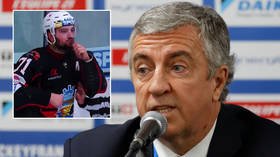 The International Ice Hockey Federation (IIHF) has launched an investigation into a shocking 'banana-eating' incident during a game in Ukraine, with its boss calling for a harsher punishment and new rules over racist incidents.
Federation president Luc Tardif has revealed that the Ethics Committee he oversees is looking into a scandal that erupted in the Ukrainian Hockey League (UHL) last month.
HC Kremenchuk forward Andrei Deniskin was caught on camera mimicking the peeling of a banana and then eating the imaginary fruit in the direction of African American Jalen Smereck, who has since left HC Donbass.
Smereck had announced that he would take a leave of absence until Deniskin had been suspended and removed by the league, but the American had his contract terminated by mutual consent at the weekend and has since joined German side the Bietigheim Steelers, with Deniskin apologizing and receiving a 13-game ban.
"During the match, I, being of negative emotions, displayed a gesture that could be considered as an insult [relating to] race," Deniskin said in an apology.
"I respect all people regardless of their race or nationality. Emotions in hockey, unfortunately, are different."
The punishment, which is said to have ordered Deniskin to sit out three games and allowed the remaining 10 to be paid off at a rate of 5,000 hryvnia ($188) per game, has been seen as light by some – and Tardif appears to agree.
"Thirteen games – that's a third of the season," Tardif told Reuters, adding that the IIHF will look into harsher punishments than the UHL's maximum suspension and pressure leagues to amend their regulations so that tougher sanctions for racist behavior are brought in.
"That's still a lot but we don't think it's enough. By calling on the Ethics Committee, this shows that I think we could go further in respect to the sanctions.
"I will let the committees come to a decision, but I don't want to stop there. That's where we can add to the sanctions, but only in terms of the competitions under our jurisdiction."
"We have to put pressure on the Federations and the leagues to include sanctions for these types of incidents in their rules.
"We will have to spend the year encouraging Federations to introduce a scale of sanctions. If not, they won't have any tools to hand them out."
Writing on Instagram after his ordeal, Smereck said: "These situations are very tough and I am a big believer in standing up for what is right.
Also on rt.com
'Fired for speaking about racism in Ukraine': Hockey official departs in row over player who mocked black star with banana gesture
"Therefore, I have been putting a lot of thought into what comes next for me in my career but, as of right now I have decided that I will be taking a personal leave of absence from HC Donbass and I will not play another game in the [league] until Andrey Deniskin is suspended and removed from the league. Thank you."
The UHL's former General Manager, Evgeny Kolychev, announced Deniskin's punishment in a supportive message to Smereck on Twitter before claiming he had been fired for speaking up on racism in the domestic game.
"The Ukrainian Hockey League and I stand with Jalen Smereck and thank all of the fans and media who have offered their support to him," Kolychev said in his initial message.
Also on rt.com
Fury after Ukrainian hockey star gets 3-game ban for 'banana-eating' gesture at black rival & can pay off remaining suspension
"The [league] believes that there is no place for racism in the world in which we live, let along in the hockey community."
A day later, Kolychev said: "I have spoken openly about racism in Ukrainian hockey and the Ukrainian Hockey Federation fired me as General Manager of the UHL today.
"Will it solve the problem? No. Will it silence me? No. My voice has been ignored in the decision over the penalty against Andrei Deniskin, who showed a racist gesture to Jalen Smereck.
"I am publicly appealing to the IIHF to conduct its own investigation of the incident and help end racism. Jalen, we got your back."
Also on rt.com
'Unacceptable in a civilized society': Ukraine star apologizes for racist 'banana-eating' gesture, faces disciplinary rap (VIDEO)
You can share this story on social media: