US Open WILL go ahead in August, says New York governor Cuomo – setting up looming showdown with big-name stars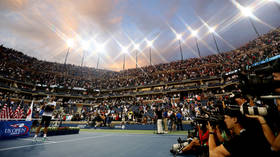 The US Open has been given the green light to go ahead in August after New York governor Andrew Cuomo confirmed the Grand Slam could take place, but noted fans would not be allowed.
Cuomo said Tuesday that the US tennis showpiece will be held in late August, but that as discussed with the US Tennis Association, fans would not be present.
"We're excited about the US Open, [it] is going to be held in Queens, August 31 through September 13.
"It will be held without fans, but you can watch it on TV – and I'll take that," Cuomo said, AP reported.
"The tennis authorities are going to be taking extraordinary precautions, but that's going to take place."
The Flushing Meadows tournament would typcially be the fourth and final Grand Slam on the calendar, but will this year be the second after the French Open was postponed to September and Wimbledon canceled altogether due to the Covid-19 pandemic.
Also on rt.com
'We need to overcome these challenges': Nick Kyrgios HITS OUT at 'selfish' ATP as plans to stage US Open move forward
The move to allow the tournament to go ahead could mean it is boycotted by several big-name players.
Men's world number one Novak Djokovic has already criticized the "extreme" coronavirus protocols that are planned to be in place, while Australian star Nick Kyrgios said organizers were being "selfish" to press ahead with the tournament.
Also on rt.com
Novak Djokovic expresses concern over 'extreme' US Open coronavirus safety protocols
Women's number one Ashleigh Barty has also cast doubt on her attendance at the event, writing an email to AP in which she said she was "still getting my head around what the tournament set up would be."
"I can't wait to get back out there and play but we have to make sure it's safe to do so first – not just for me, but for my team," she added. "I understand the tournaments are eager to run but keeping everyone safe has to be the priority."
The tournament is understood not to have any insurance protection of the kind that allowed Wimbledon bosses to recoup around $141 million when they opted to cancel in April.
Also on rt.com
'She's coming back to WIN': Serena Williams' coach reveals tennis icon would 'LOVE' to play US Open – if she can bear restrictions