'Manuscripts don't burn!' Conor McGregor gives famous Master & Margarita quote salute to Ovechkin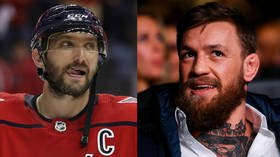 UFC superstar Conor McGregor paid tribute to Russian NHL legend Alexander Ovechkin by hailing the Washington Capitals captain as a "proper Russian," while referencing Mikhail Bulgakov's novel Master and Margarita.
Usually nicknamed 'Ovi' or 'the Great Eight,' Ovechkin was afforded a new moniker by the former Irish two-weight UFC champ, labeling him 'proper,' meaning 'legit' in Irish terminology, in an apparent reference to McGregor's brand of whiskey.
The second part of the caption, written in the Russian Cyrillic alphabet, was made famous by Bulgakov's 'Master and Margarita' and means "manuscripts don't burn" in English.
The post also included the photo of the two taken at the 2018 FIFA World Cup Final in Moscow, Russia, where the Irishman was also famously pictured with President Vladimir Putin.
McGregor has since then repeatedly used the fact of the meeting with the Russian leader to distract his bitter rival Khabib Nurmagomedov, who comes from Russia's Republic of Dagestan.
READ MORE: 'Are you disrespecting Putin!?' Conor goads Khabib over WC final pic with Russian President
It's also not the first time he has mentioned his encounter with Ovechkin. Last month, he gave a shout out to the NHL superstar after his on-ice fight in which he knocked out his opponent after a couple of punches.
Also on rt.com
'A proper Russian!' McGregor gives shout-out to Ovechkin after big NHL knockout, to jibe Khabib?
It isn't known why McGregor used the reference to Bulgakov's novel, aside from it's poetic sound.
McGregor has a rapport with hockey players, having delivered a rousing team talk to the Boston Bruins on St. Patrick's Day in March.
You can share this story on social media: