No more d*ck pics: UFC's Katlyn Chookagian asks fans to stop sending graphic images on social media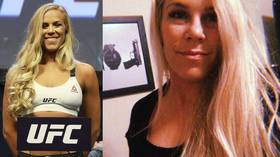 UFC flyweight starlet Katlyn Chookagian has risen to the sharp end of the women's 125lb division to get the attention of the world's best flyweights. But it seems she's also attracted some unwanted attention, too.
Chookagian, who goes by the moniker 'Blonde Fighter' is now ranked second in the UFC's women's flyweight division and is set to face Scotland's Joanne Calderwood on June 8 at UFC 238 in Chicago.
But her preparations have been interrupted by unwanted messages being sent to her on social media by some overly-interested fans.
"If random dudes could stop sending me snaps of them jerking off and/or porn they are watching that would be great," she tweeted.
The Long Island native is an active user of social media, but does not post 'glamor' pictures of herself. Instead, she prefers to post pics of her training or shots of her relaxing away from the mats.
She isn't the first female MMA fighter to receive unwanted graphic messages on social media.
Brazilian UFC strawweight contender Claudia Gadelha and Bellator's Russian flyweight starlet Anastasia Yankova have both been the recipients of unwanted social media 'attention' from depraved fans.
You can share this story on social media: