Brazilian volleyball star faints midway through live court-side interview (VIDEO)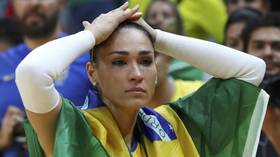 Brazilian two-time Olympic champion Jaqueline Carvalho shockingly passed out while being interviewed by a reporter during a men's Superliga game in Sao Paolo.
READ MORE: 'Even I couldn't stand the smell': Chinese runner defies diarrhea attack to finish half-marathon
The frightening incident took place during the Superliga finals between Sesi Sao Paulo and EMS Taubate Funvic, when Carvalho suddenly collapsed in the middle of the interview.
The 35-year-old Brazilian star was enthusiastically talking to a reporter, Fabiola Andrade, during a break when she suddenly closed her eyes and fell to the floor.
Jaqueline Carvalho, desmaiou enquanto era entrevistada, na noite desta terça-feira, a pressão da ex-jogadora subiu de acordo com os médicos, chegou a 14 por 11. pic.twitter.com/AfRRrKpKGz

— Tver (@tveroficial) April 24, 2019
Andrade, along with several players and Sesi team doctor Sergio Xavier, rushed to administer first aid.
Later it was revealed that Carvalho fainted due to a rapid drop in blood pressure caused by the heat in the venue.
You can share this story on social media: