'Even I couldn't stand the smell': Chinese runner defies diarrhea attack to finish half-marathon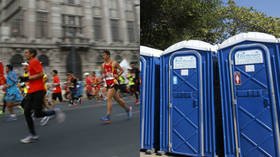 Chinese runner Wu Xiangdong was forced to battle more than just his fellow competitors at the Shanghai half-marathon at the weekend as he faced a particularly untimely bout of diarrhea.
Wu was hit with an attack of the runs around the 14km mark of the 21km race, forcing an uncomfortable – and somewhat smelly – end to the race as he reportedly relieved himself while on the go.
But despite continuing to struggle with stomach problems, he incredibly managed to power home as China's fastest finisher in the race, clocking a time of one hour, six minutes and 16 seconds.
An embarrassed Wu said afterwards: "Even I couldn't stand the smell.
"I kept running and didn't stop (to go to the toilet because there weren't any) and I wanted to beat the African runner at the finish," Wu added, according to the South China Morning Post.
"I was really relieved when I crossed the finish line. It seemed I had more power after I excreted everything (during the race). I definitely would have run faster if I didn't have this (episode)."
READ MORE: Puppy love: Marathon runner carries dog 19 miles after finding it lost on route (VIDEO)
Wu said the unfortunate incident was possibly down to wet clothes he was wearing.
"Or it was because I only had a piece of bread and drank mineral water. I don't think it was because of what I ate.
"It was a mighty relief to have had the toilet in the end. I don't want to remember this race," he added.
While Wu defied his diarrhea to end as his nation's fastest finisher, the overall men's race was won by Ethiopia's Antenayehu Dagnachew Yisma in 1 hour, two minutes and 32 seconds.
But the Chinese runner's unfortunate episode was largely what made the news, with some headlines reading: 'The runner with the runs'.
You can share this story on social media: