'We're not champions anymore. No one respects us': Malkin on Penguins' playoffs elimination
Published time: 18 Apr, 2019 08:04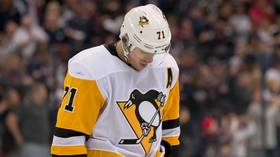 Russian hockey ace Evgeni Malkin commented on the Pittsburgh Penguins gruesome first-round elimination, stressing that other teams have no fear of the former champions.
The Penguins, who won back-to-back Stanley Cups in 2016 and 2017, failed to advance in the first round of the NHL playoffs, as they were swept by the New York Islanders in four games.
Also on rt.com
'We don't lose at home': Colorado Avalanche steal nail-biting OT win from the Flames
Led by Sidney Crosby and Malkin, the Penguins failed to win a single game in the series, becoming one of the first teams to be eliminated from the playoffs.
"Next year, we need to understand, young guys – they're hungry," Malkin said. "Every team is trying to win and we're not champions anymore," he added. "No one respects our team and everyone wants to beat the Penguins."
"It doesn't mean we're not trying or not hungry. I mean, if a team wins four-nothing, they're the better team," Malkin said.
Following the Penguins' exit, the 32-year-old center was invited to compete for the national team in the upcoming hockey world championship, which will be co-hosted by Slovakia and the Czech Republic.