'Stick to basketball!' Maple Leafs fans blame Drake for inflicting 'sports curse' on team
Published time: 18 Apr, 2019 05:06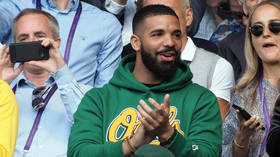 Toronto Maple Leafs fans have found a reason for the team's recent loss to the Boston Bruins in the NHL Playoffs round, blaming Canadian rapper Drake, who was at the game on Wednesday, for inflicting a sports curse on the players.
The Maple Leafs were beaten 6-4 in Game Four, allowing the Bruins to tie the series at 2-2.
READ MORE: 'Play with the bull, get the horns': Don Cherry on Ovechkin v Svechnikov brawl
The famous Canadian rapper was spotted in the stands during the match, wearing the Leafs jersey, which, fans believe, brought bad luck to a team that desperately tried to save the game.
The hosts were trailing 5-2 in the third period when they revived some intrigue in the match, scoring twice within several minutes. However, the Maple Leafs' massive attacks appeared to be in vain, with the Bruins effortlessly scoring the empty net goal to seal a 6-4 victory.
The Maple Leafs fans immediately shifted the blame for their team's loss on Drake, insisting that the rapper hands out losses to all teams and athletes he supports.
"Drake is in the house wearing Leaf colors!! Bwahahahahaha. The curse lives on. Bwahahahahaha", one user wrote.
"Have you heard @Drake's new song about the @TBLightning: 'started at the top now we out,' another person added.
"I hate that guy so much...stick to basketball. Now leafs are screwed," another person added.
French football star Paul Pogba took pictures with Drake when he performed at the Manchester Arena right before Manchester United lost 2-1 to Wolves in the FA Cup.
Arsenal's Pierre-Emerick Aubameyang also attended Drake's seven shows at the O2 in London, before his team lost a Premier League match to Everton 1-0.