'Play with the bull, get the horns': Don Cherry on Ovechkin v Svechnikov brawl
Published time: 16 Apr, 2019 17:45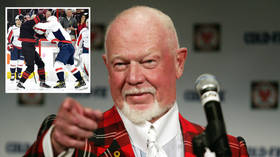 Canadian TV analyst Don Cherry has weighed in on the NHL brawl between the Washington Capitals leader Alex Ovechkin and the Carolina Hurricanes rookie Andrei Svechnikov, saying that the "kid" should not have provoked the "bull."
Talking to Ron MacLean during the "Coach's Corner" intermission, the hockey commentator sided with the Caps captain stressing that it was Svechnikov "who looked for trouble" by provoking Ovi.
READ MORE: 'Imagine him in UFC!' WATCH Ovechkin KO reckless NHL rookie Svechnikov
"When you stick a guy, and you go after a guy, you better be prepared," Cherry said. "That guy [Svechnikov] looked for trouble. When you look for trouble, you find it. You play with the bull, you get the horns," he added.
The fierce fist fight involving the two Russians took place in the ninth minute of the first period when the 19-year-old rookie invited the Caps leader to drop the gloves.
The more experienced Stanley Cup champ, who was visibly infuriated by Svechnikov's impudence easily inflicted hard blows on his younger opponent, knocking him out within seconds.
Both players received five-minute penalties for fighting, although Svechnikov couldn't come back to the ice. Despite his early exit, Carolina won the game 5-0. Washington, however, still lead the series 2-1.
Also on rt.com
'A proper Russian!' McGregor gives shout-out to Ovechkin after big NHL knockout, to jibe Khabib?