'Regardless of everything, no to racism': Bonucci accused of backtracking on Kean celebration row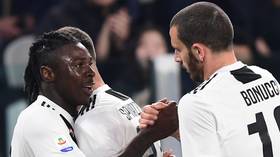 Juventus defender Leonardo Bonucci has broken his silence since being scolded for suggesting teammate Moise Kean "provoked" monkey chants from Cagliari fans when celebrating a goal in their Serie A fixture on Tuesday.
Bonucci said the blame was "50/50" when the 19-year-old forward, who was born in Italy to Ivorian parents, reacted to consistent racist chants throughout the match by celebrating with outstretched arms in front of the Cagliari ultras 'Curva' after scoring an 85th minute goal to secure a 2-0 win.
READ MORE: 'There were racist jeers. The blame's 50-50': Bonucci says Kean partially at fault for monkey chants
"Kean knows that when he scores a goal, he has to focus on celebrating with his team-mates. He knows he could've done something differently too," Bonucci told Sky Sports Italia.
Moise Kean,19,scored a goal for Juventus against Cagliari and stood up against racism by celebrating infront of them,A TRUE HERO 👏👏👏👏Apparently Bonucci thinks blame is 50-50,what an insult to professional football pic.twitter.com/d1lo1vztLE

— Pye Waw (@pyewaw) April 3, 2019
"There were racist jeers after the goal, Blaise [Matuidi] heard it and was angered. I think the blame is 50-50, because Moise shouldn't have done that and the Curva should not have reacted that way. We are professionals, we have to set the example and not provoke anyone," he added.
The 31-year-old was ridiculed –almost unanimously– by the footballing world, including journalists and former pros, for laying any blame with the abused player.
Hey @bonucci_leo19, your team mate who was racially abused is NOT TO BLAME for being racially abused, so don't try to suggest he was.If you can't support your team mates right to not be greeted with monkey chants, hang your boots up.Idiot.

— Stan Collymore (@StanCollymore) April 3, 2019
Good morning to everyone except for bonucci

— SANTAN (@Santandave1) April 3, 2019
Juventus forward Moise Keane (who is black) subjected to monkey chants by Cagliari fans on Tuesday.Sad to say it, but this is not merely a soccer issue. It's symptomatic of a much larger problem within Italian society.

— John Molinaro (@JohnMolinaro) April 2, 2019
Those words seemed to have carried weight all the way to Bonucci, who broke his silence on the backlash by posting a picture of himself and Kean sharing an embrace on international duty for Italy, with the caption "Regardless of everything, in any case, no to racism."
However, some have taken his words as a mealy-mouthed apology that smacks of backtracking, and that his initial comments had already done enough damage, and also carried a hint of hypocrisy.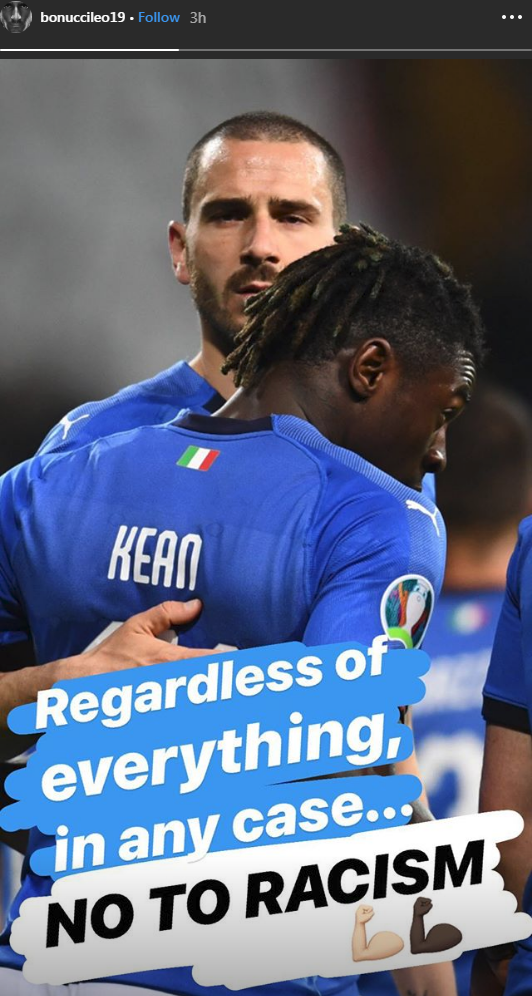 Leonardo Bonucci casually provoking fans after scoring against Juventus...👇🏼He then claims that Moise Kean was partly to blame for being racially abused because of his goal celebration...The man has no respect & no morals. A complete & utter disgrace.pic.twitter.com/LbFfUouOom

— SSC NAP⚽️LI NEWS (@SSCNapoliNews_) April 3, 2019
You can share this story on social media: