'There were racist jeers. The blame's 50-50': Bonucci says Kean partially at fault for monkey chants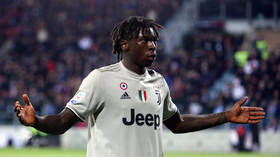 Juventus defender Leonardo Bonucci has shockingly laid partial blame with teammate Moise Kean after the 19-year-old forward reacted to monkey chants from Cagliari fans by scoring and celebrating in front of their ultra stand.
Bonucci says the blame is "50/50" between Kean, who was born in Italy to Ivorian parents, and fans of the Sardinian club after monkey chants were aimed at the 19-year-old forward and French teammate Blaise Matuidi from the stands of the Sardegna Arena throughout the match on Tuesday.
Forward Kean, who was starting the match in place of Cristiano Ronaldo, responded by scoring in the 85th minute of the match to make it 2-0 and celebrating by standing in front of the away crowd with outstretched arms.
The player himself commented the celebration was "the best way to respond to racism", but that view was not shared by Juve's Bonucci, who scored the first goal of the game for the Turin club.
Instead, Bonucci said that although Cagliari fans should not have reacted as such, Kean "could have done something differently" to prevent the abuse.
"Kean knows that when he scores a goal, he has to focus on celebrating with his team-mates. He knows he could've done something differently too," Bonucci told Sky Sports Italia.
"There were racist jeers after the goal, Blaise [Matuidi] heard it and was angered. I think the blame is 50-50, because Moise shouldn't have done that and the Curva should not have reacted that way. We are professionals, we have to set the example and not provoke anyone."
Bonucci's words were unsurprisingly met with a backlash online, including journalists and former professionals, with many questioning how the problem of racism in football can be adequately tackled if an abused player is not backed by his captain.
Kean, who has made three appearances for the Italian national team and scored two goals, did find support from other players, including Matuidi and former Juventus midfielder Paul Pogba, now at Manchester United.
"I support every fight against racism, we're all equal," Pogba wrote in a show of solidarity on Instagram, re-posting an image of the youngster's celebration from compatriot Matuidi's account.
England's Raheem Sterling, who was racially abused in Montenegro while on international duty last month, ridiculed Bonucci's words, tagging the player in an Instagram story with the caption "all you can do now is laugh".
You can share this story on social media: