'We'll be rooting for failure': NFL fans react to Kareem Hunt's signing with Cleveland Browns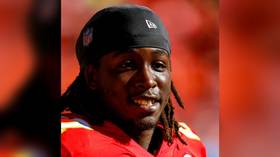 Controversial ex-Kansas City Chiefs running back Kareem Hunt now has a new playing home after signing a one-year deal to join the Cleveland Browns on Monday, but not everyone is happy about it.
Hunt was released from the Chiefs last season after video footage surfaced showing him shoving and kicking a woman during an incident that took place in the lobby of a Cleveland hotel last year.
READ MORE: Kansas City Chiefs release running back Kareem Hunt after footage shows him kicking woman
Hunt remains on suspension from the NFL as an investigation is ongoing but the troubled running back released a statement after his signing, apologizing once again for his actions while thanking the Browns' organization for giving him a second chance.
Although the NFL fans met the news with rather mixed reactions.
The Browns have also came under fire over the signing of the controversial running back.
However, some of the fans were open to give Hunt a second chance, while also noting that the Browns have gotten a solid player to join a powerful line up of their running backs.
No matter what people are saying on Twitter, the NFL will have to finish their investigation into Hunt's past actions and make a ruling on any potential punishment before he will be allowed to play in that Browns' uniform.
You can share this story on social media: