'You suck, do better journalism': Jon Jones slams female reporter over drug test question (VIDEO)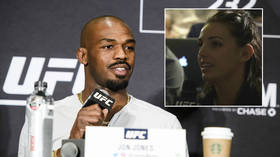 Jones dismissed the female journalist, who asked for clarification on details of drug test abnormality which caused the UFC to move the entire card from Las Vegas to California on less than a week's notice.
Jones, who had taken several question on the subject at this point in the press conference, apparently reached his limit when asked by Swedish journalist Izabelle Kostic about why he was mired in yet another drug testing scandal, as has happened on several occasions in the past.
"Next question," said Jones of Kostic's initial enquiry, who then asked UFC president Dana White to comment.
White appeared to struggle to hear the question but Jones once again chimed in.
"Sit down. Someone take the mic from her," said Jones.
"Better questions. Better journalism, you suck," he added.
Jones' comments have received scorn from several members of the mixed martial arts reporters pool.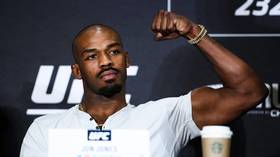 White told Jones to let the reporter speak, but then directed her question to Jeff Novtisky, UFC VP of Athlete Health and Performance, who was not present at the press conference.
The question stems from the trace amount of turinabol, an anabolic steroid, which was found in Jones' system in a recent test administered by the United States Anti-Doping Agency (USADA) prompting the Nevada State Athletic Commission to deny a license to Jones to fight in their jurisdiction.
This prompted the UFC to switch the venue for the event, causing havoc for fighters and fans alike, many of whom had made travel arrangements to Las Vegas from various parts of the world.
Also on rt.com
UFC 232 switched from Las Vegas to Los Angeles after Jon Jones submits abnormal drug test
It is the latest of several drug-related infractions that the former UFC light heavyweight champion has been accused of.