Head-first finish: Runner crashes through line after celebration goes hilariously wrong (VIDEO)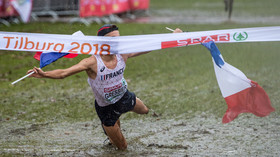 French cross-country athlete Jimmy Gressier captured European gold in the Netherlands, but crossed the line in unusual fashion to claim victory at the Under-23 race in Tilburg.
The European Cross Country Championships, held on December 9, saw the continent's best endurance runners compete in a host of races.
READ MORE: Russian athletes strip off to reveal 'natural truth' of life in sport (VIDEO)
The main senior titles were won by Norway's Filip Ingebrigtsen and Turkey's Yasemin Can, but perhaps the highlight of the day came at the end of the men's Under-23 race, as Frenchman Gressier crossed the line to claim gold.
The official video clip posted by the event organizers shows Gressier heading towards the line in victory, then pans away to capture second-placed athlete, Germany's Samuel Fitwi, heading down the finishing straight.
But what the cameraman missed was the moment when Gressier broke the finishing tape to claim victory.
Thankfully there was another camera facing the athletes as they crossed the line, which captured the glorious moment when Gressier, celebrating with two French flags, broke the tape not with his chest, but with his head after he stumbled and fell while apparently attempting a celebratory knee-slide across the line.
Gressier's win gave him his second consecutive European Under-23 Cross Country title in two years but, thanks to his staggering, head-first finish, his second win will likely live longer in the memory than his first.