UFC 231: Holloway beats Ortega to retain featherweight title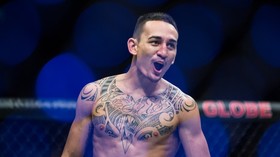 Max Holloway scored a fourth-round TKO victory over Brian Ortega to retain his UFC featherweight title in a relentless performance in Canada at UFC 231.
Defending champion Holloway dominated the bout from the outset and rarely let up as he unleashed a blistering striking performance that led the cageside doctor to order a bloodied and badly bruised Ortega not to come out for the fifth round at Scotiabank Arena in Toronto.
The eagerly-awaited clash had initially been booked for UFC 226 in July, but illness to Holloway had forced the match-up to be postponed.
It was worth the wait however as Holloway asserted himself in the opening stages, scoring with a big right hand and setting the pattern for what would follow.
Ortega hit back with an uppercut right and solid left, but continued to be caught with Holloway's jabs.
Ortega's attempted takedowns at the end of the first were stuffed, and Holloway took the fight to his opponent in the second with Ortega soon bleeding heavily from repeated punches.
The challenger still threw out elbows and landed sporadic shots of his own but they largely made little mark as Holloway landed punch after punch through Ortega's defense.
Ortega started with solid shots at the start of the third and attempted a takedown as the momentum of the fight briefly shifted, but Holloway was soon back in his rhythm and landing yet more right and left hands.
Ortega still pressed forward and put Holloway against the cage for the closing stages of the third, but the champion remained in control.
The Hawaii native hit with further hand strikes at the start of the fourth, pinning Ortega to the cage as he looked out on his feet.
READ MORE: UFC 231: Shevchenko dominates Jedrzejczyk to win women's flyweight title
Holloway relentlessly pressed the initiative as Ortega took a pounding, desperately trying to fend off the attacks with a takedown and grappling, but Holloway unlocked himself and simply unloaded further.
Holloway closed out the fourth with some big shots as Ortega's face was a bloodied and bruised mess, and he was unable to face the fifth and final round.
The win for Holloway, 27, handed California fighter Ortega his first defeat in his 15th contest, and moved Holloway's remarkable winning streak to 13 as he cemented his reputation as one of the pound-for-pound kings of the promotion.