'I'm going for 3 quads in free program' – Alexandra Trusova aiming for unprecedented GP routine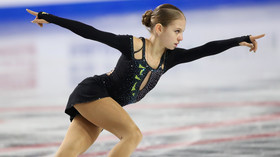 Russian figure skating prodigy Alexandra Trusova has said she will attempt to land three quadruple jumps in the free program of the junior Grand Prix in Vancouver, Canada.
READ MORE: Japanese figure skating sensation breaks Zagitova world record in GP final
The 14-year-old star posted the second highest score in the short program on Thursday, less than two points behind compatriot and training partner Alena Kostornaia, who sensationally took the lead with a new junior world record of 76.32 points.
"On the whole I'm satisfied with my skating today," Trusova said. "There were slight errors, but I will work on them. I can't say whether it was difficult to compete after my last year's victory. I didn't think about it, I was fully concentrating on showing clean skating. I will try to do the maximum in free program land three quads," she added.
Despite being ranked second after the short program, Trusova will still enter Saturday's competition as the favorite to clinch gold, as she will be the sole skater to include three quadruple jumps in her free routine – an achievement never seen been before in women's skating.
According to International Skating Union (ISU) rules, juniors are prohibited from jumping quads in short programs, a restriction which potentially cost Trusova the lead after the first competitive day.
READ MORE: Russian figure-skating 'Empress' says she wants to 'kick Trump's ass' on Twitter & on ice
The skater, who has been training under the watchful eye of renowned coach Eteri Tutberidze, won last year's junior world championship and became the first female skater in history to land two quads in a free routine.
At the end of November, the talented junior shared a video on Instagram showing a unique jumping combination during training, flawlessly landing a quadruple lutz and triple loop – an immensely difficult element which has never been performed before even by male skaters.
Fellow Russian skater Anna Sherbakova, who sits sixth after the short program, is also expected to include quadruple jumps in her free routine and improve her position in the final standings.
This year five out of six Grand Prix finalists are from Russia with three of them representing Tutberidze's team.
You can share this story on social media: