Russian figure-skating 'Empress' says she wants to 'kick Trump's ass' on Twitter & on ice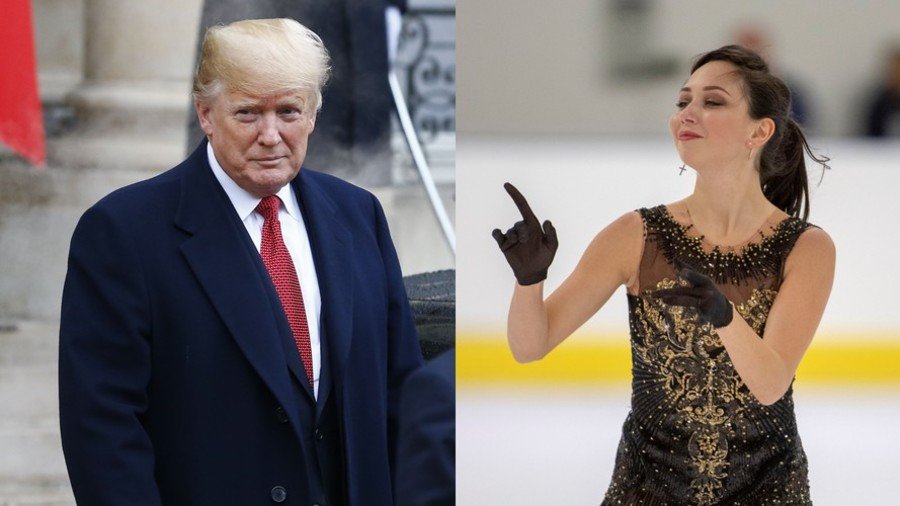 Russian figure skating sensation Elizaveta Tuktamysheva, fresh from securing a coveted place in the Grand Prix Final, has said that she would like to meet US President Donald Trump to tell him she has superior Twitter skills.
Tuktamysheva, though not quite as prolific a Tweeter as the US leader, says she makes up for it in skill. She made the tongue-in-cheek remark during an improvised online Q&A session after clinching a bronze at the Grand Prix in Japan. Saturday's success allowed her to become the first Russian to qualify for the Gran Prix Final in Vancouver, Canada.
The 2015 World Champion, who has risen from the ashes this season to win Skate Canada Grand Prix in October, suggested that Trump is no match to her even on his preferred battlefield, Twitter.
Asked by a fan what famous person she would like to meet, Tuktamysheva, or "Empress" as she likes to be addressed, said in the now-deleted tweet it was Trump – but only to "say [to] him that I'll kick his ass in Twitter."
Trump. To say him that I'll kick his ass in Twitter

— Elizaveta Tuktamysheva (@TuktikLiza) 10 ноября 2018 г.
She added that Trump would also be her dream partner if she were to skate pairs. But again, only "to make him look even more stupid." However much anyone would like to see this happen, there's little chance Trump will ever even know of her longing since he's never shown any interest in figure-skating in any form.
Trump. To make him look even more stupid. But is it possible?

— Elizaveta Tuktamysheva (@TuktikLiza) November 10, 2018
Tuktamysheva, 21, made international headlines this season not only thanks to her impeccable triple axel, but also as a result of the racy exhibition program she premiered after her stunning win at Skate Canada Grand Prix in October. During the risky routine staged to the Britney Spears song Toxic, Tuktamysheva, clad in a steward's outfit, stripped down to her bra.
The Russian figure skater is no stranger to controversy, having once said that being a woman in her forties in "real life" is similar to being a 21-year-old in the world of female figure skating. The "Empress" proudly flaunts her sexuality, having posed for lingerie photoshoots and shared seductive pics with her thousands of followers.
Think your friends would be interested? Share this story!
You can share this story on social media: