Japanese figure skating sensation breaks Zagitova world record in GP final
Published time: 7 Dec, 2018 10:24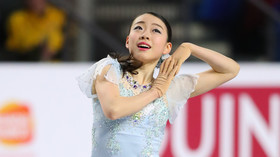 Japanese figure skating star Rika Kihira has stolen the show at the Grand Prix final in Vancouver, Canada, delivering a stunning short program performance and breaking the world record set by Russia's Alina Zagitova.
'I fall over less often on the ice': Russian figure skating star Tuktamysheva trolls Neymar
The 16-year-old skater flawlessly landed a triple axel before nailing two other jumping elements, including a triple flip in combination with a triple toe loop to post the highest score of the competition with 82.51 points.
"I was surprised when I saw the (world record) score. It was a score I never imagined. I feel really happy," Kihira said.
Kihira shattered her previous personal best by 10 points to take the lead at the Grand Prix final, surpassing reigning Olympic champion Zagitova by almost five points.
Russia's Elizaveta Tuktamysheva sits third after the short program, trailing Kihira by more than 12 points.
The Japanese starlet, who demonstrated the most technically complicated routine on Thursday, beat Zagitova's previous world record mark by 1.73 points.
The competition will continue on Saturday with skaters showing their free routines. Zagitova, the winner of last year's Grand Prix final, will need to overcome a five-point gap to leapfrog the newly-emerged Japanese star and defend her title.