No judges, no kicks: Floyd Mayweather Jr. confirms rules for Tenshin Nasukawa bout on New Year's Eve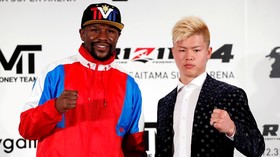 Floyd Mayweather Jr. is taking a safety-first approach to his New Year's Eve exhibition fight with Japanese kickboxing star Tenshin Nasukawa.
Mayweather confirmed the fight would be purely an exhibition bout, for entertainment purposes, rather than as a legitimate sporting encounter, and the ruleset has been adjusted accordingly.
READ MORE: Khabib 'could fight Floyd' when UFC contract expires but Mayweather needs 'life insurance' - manager
The bout between the 50-0 boxing world champion and the 28-0 kickboxing world champion will take place over just three 3-minute rounds and will not count towards either man's professional record.
There will be no kicking allowed, with the event "contested" under boxing rules, but no judges will score the bout, rendering it virtually toothless as a spectacle for the fans. The exhibition bout will take place at 147lbs.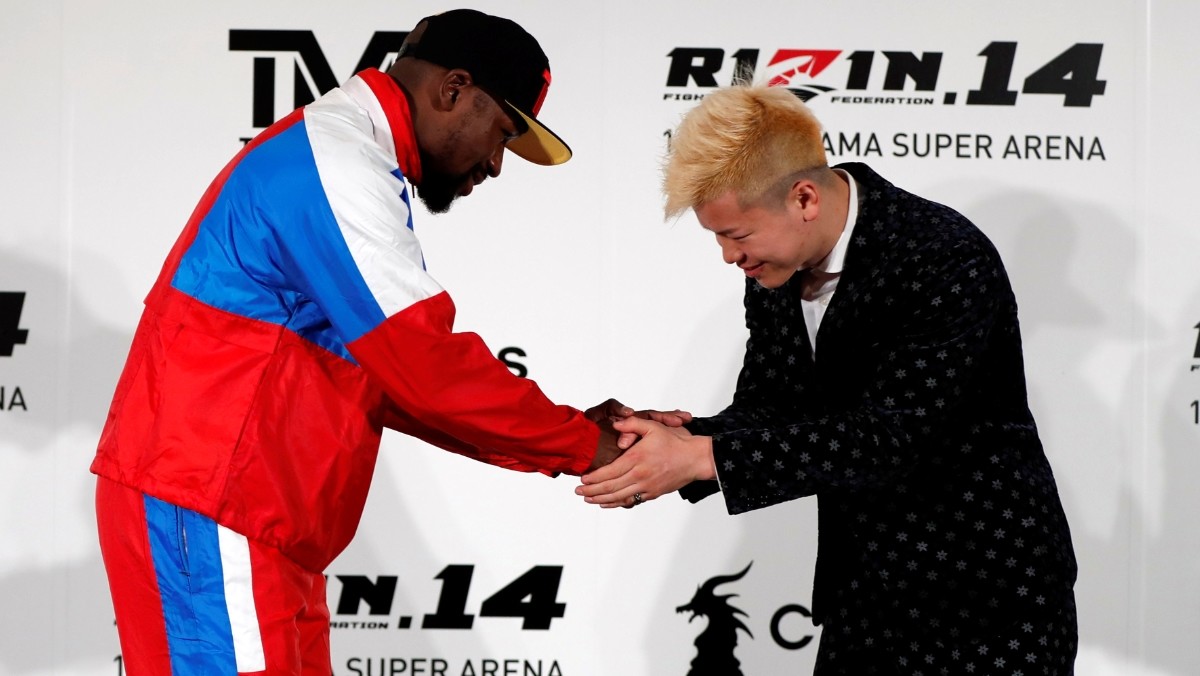 The bout will take place at the Saitama Super Arena as part of the Rizin 14 event on New Year's Eve, and Mayweather said he planned on putting on a show for the Japanese fans.
"I'm in the entertainment business. That's what I go out there to do," he said this week.
"I love to do this. I'm working out to put on a show for three rounds."
READ MORE: Money madness: Floyd Mayweather Jr. spends whopping $5.3 mln on jewelry shopping spree (PHOTOS)
Nasukawa joined Mayweather at his famous Mayweather Boxing Gym in Las Vegas to formally announce the exhibition.
The Japanese ace had previously vowed to knock out Mayweather, and was already in Vegas sparring with former lightweight boxing world champion Jorge Linares.
"There's never been a Japanese fighter to face Floyd Mayweather in the ring," he said.
"As an athlete, this is something that's a great honor and a challenging task. I'd like to make a big impression."
He also posted a video of him hitting the mitts in Las Vegas with the caption: "I'm not sure if a 42 year old can react to these."
This week's announcement appears to cement the fact that Mayweather will indeed travel to Japan to face Nasukawa after he previously distanced himself from the event following his press conference appearance, saying he had been blindsided by the announcement.
But now it appears everything has been smoothed over between Mayweather and Rizin, with the three-round exhibition agreed for December 31.
At the time, Rizin head Nobuyuki Sakakibara said: "We don't want people to think this is some half-hearted playing around."
But now, following the announcement of the rules, it remains to be seen just how full-blooded the exchanges will be when Nasukawa and Mayweather meet in the ring on New Year's Eve.