Khabib 'could fight Floyd' when UFC contract expires but Mayweather needs 'life insurance' - manager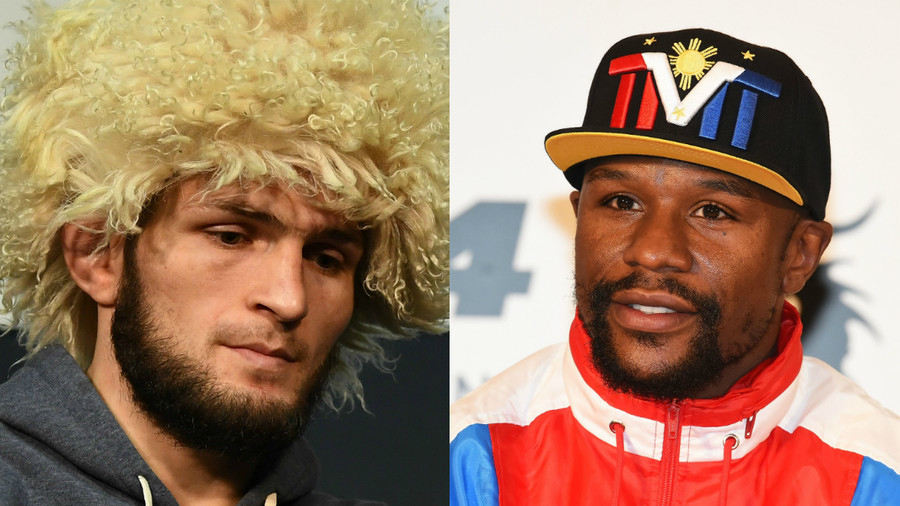 Khabib Nurmagomedov's manager Ali Abdelaziz says his charge could fight Floyd Mayweather Jr. when his contract with the UFC expires, before warning 'Money' should have life insurance before stepping into the octagon.
READ MORE: Conor McGregor's 59-year-old dad 'to have a boxing match in December'
A crossover matchup between Russian UFC lightweight champion Khabib and undefeated boxing icon 'Pretty Boy' Floyd has long been mooted, with both outlining serious interest in a match within the Queensberry rules of boxing.
Abdelaziz confirmed the fight could happen once Khabib's UFC contract, which has just one fight left, runs out, but insisted that if Mayweather desires a "real fight" he must grace the cage.
"Dana White is the presidnet of the UFC, Khabib has one more fight left on his contract. [White] want Khabib to fight Floyd. A fight, Floyd Mayweather is not a fighter, he's an athlete," Abdelaziz told TMZ Sports.
"Boxing is a sport you can only use your hands, but UFC or MMA they are the baddest dudes on the planet, they gonna whoop your ass every time if you only know boxing."
READ MORE: Husband of UFC fighter Rachael Ostovich 'arrested for attempted murder' after alleged attack on wife
Abdelaziz went on to say Floyd would never meet Khabib, who also stands defeated at 27-0, in the octagon, nor would any other boxer for fear of a severe beating, and claimed the 50-0 former five-weight world boxing champion was "bitching out" with his claim he was the "a-side" of a potential fight.
"He's not the A-side, he's 50 years old, his time past. And honestly, Khabib will beat him, in a boxing fight, in a air hockey fight, in a MMA fight, in a kickboxing fight.
"We have one fight left on the UFC contract, if they wanna do a boxing fight, we down. If they don't want to do a fight, you know, we'll go ahead and fight our last fight and maybe we can fight Floyd at the end of 2019.
"But for right now, Khabib is a UFC fighter, Dana White is our partner, and we're gonna respect him."
Abdelaziz then went on to goad Mayweather into coming to the UFC for the fight, as opposed to a boxing match between the two, but insisted the Las Vegas resident should "have to have enough money for life insurance" if he was to do so, claiming Khabib is "too big & strong" and will knock the former pound for pound king out.
"[Mayweather] have to have enough money for really good life insurance...because he's not gonna be walking anymore, he gonna be drinking water (through) a straw," Abdelaziz warned.
"Definitely Khabib want to box with Floyd, but I say, we do have a contract with the UFC right. They allow this Irish guy to fight...listen if Khabib really want it, I think he sit down with Dana, you know, we can make it happen," he added.
Indeed, the last opponent for both Khabib and Floyd was 'The Notorious' Conor McGregor, against whom Khabib defended his belt in Las Vegas on October 6 via fourth-round neck crank submission.
Mayweather already has experience in fighting mixed martial artists; he beat the Irish MMA phenomenon in their own hybrid fight at the same T-Mobile Arena in 2017, the win coming by way of tenth-round technichal knockout.
You can share this story on social media: