Money madness: Floyd Mayweather Jr. spends whopping $5.3 mln on jewelry shopping spree (PHOTOS)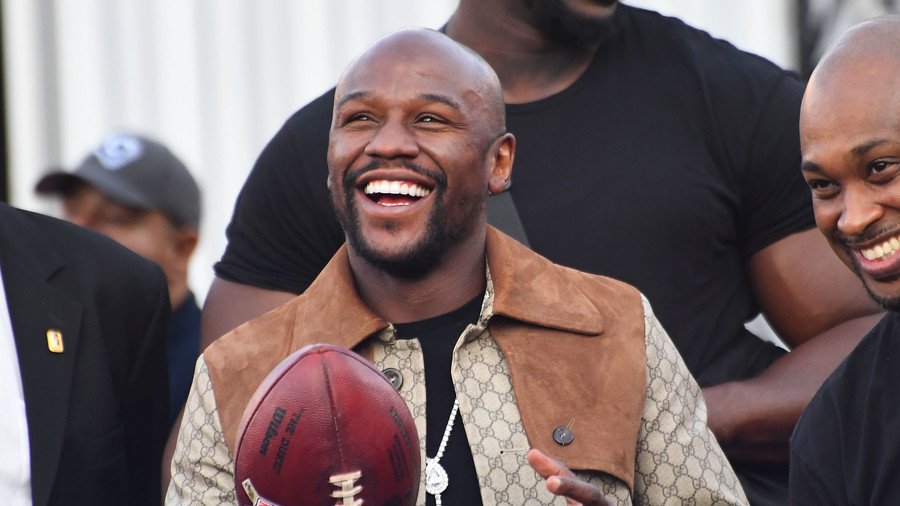 Undefeated ring legend Floyd Mayweather Jr is not known as 'Money' for no reason, and he proved just how much financial muscle he can flex by spending a colossal $5.3 million in just one Los Angeles shopping spree.
READ MORE: Khabib 'could fight Floyd' when UFC contract expires but Mayweather needs 'life insurance' - manager
Not shy of splashing his cash earned in a 50-fight, 50-win career that consisted of 17 pay-per-view matches and a near $1 billion fortune amassed, Mayweather paid a visit to jeweler of the filthy rich and famous Peter Marco at his Beverly Hills store.
A breakdown of the ice Mayweather picked out includes a 30-carat pear-shaped, fancy yellow VVS ring which set the boxing icon back $2.3 million.
Then came a diamond bracelet priced even higher at $2.5 million as well as a 2 lbs yellow gold Cuban necklace mixed with three watches that amounted to a grand total of $500,000.
Floyd, who is being eyed as a potential opponent for Russian UFC champion Khabib Nurmagomedov in the ring, was not shy of showing off his new merchandise either.
Jeweler to the stars Marco, whose store is based in Beverly Hills, showed his gratitude on Instagram to the former 5-weight world champion.
"Thank you Floyd Mayweather for always coming to my store and showing your utmost appreciation for my extraordinary jewels... it's truly a honor to be amongst the greats in entertainment and sport," he wrote.
READ MORE: Conor McGregor offered $5 million to face unnamed 'Chinese kickboxer,' says coach
Mayweather, 41, could be headed for another huge payday should he be tempted out of retirement to face Khabib in a crossover fight, similar to his 2017 matchup with Irish MMA giant Conor McGregor.
You can share this story on social media: