Japan falls in love with gorgeous Russian policewoman on horse (PHOTOS)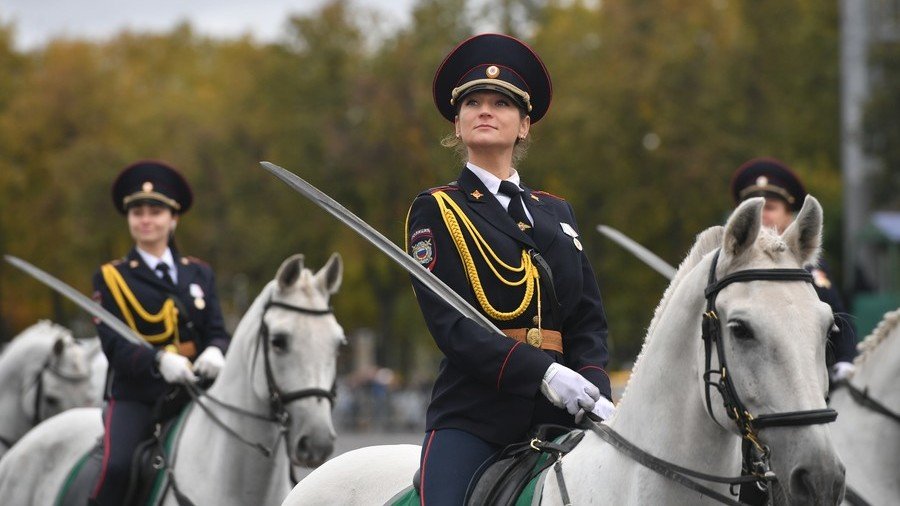 A photo of a Russian mounted policewoman has captured hearts in Japan, immediately going viral. Japanese internet users also fell head over heels a few years ago for the former chief prosecutor of Crimea.
"I think I'm in love," one commenter wrote after images of the policewoman and her white horse were shared by Japanese Twitter user SRS@VDV, who has a large chunk of his content dedicated to the Russian military and police. The pictures were liked by over 155,000 people in just three days.
"Gallant and cute, she's absolutely wonderful," another person tweeted, according to the translation from Japanese by SoarNews24 website.
Some users even expressed the desire to travel to Russia and commit a crime in order to be apprehended by the beautiful brunette. Others praised the design of the Russian police uniforms. "I wish the police uniforms looked this cool in Japan! Why are ours so lame?"
The identity of the stunning officer has not been established yet by the Japanese internet crowd, as she apparently has no accounts on social media. Some Russian publications say that she might be Tatyana Zimina, a sergeant of the Moscow mounted police.
RIA Novosti earlier interviewed a Moscow mounted police sergeant, who was credited as Tatyana Zima, as part of a project about women in rare professions. The officer told the agency that she has been horseback riding since she was 10 and that she decided to become a policewoman while in school.
And her job is no walk in the park as one of the main duties of the mounted police is to provide security at mass public events, including rallies and football matches. Zima is likely to be extremely busy in the coming weeks, as the FIFA World Cup comes to Russia, with Moscow hosting more games at the event than the other host cities, including the opening match on June 14 and the final on July 15.
The Russia Interior Ministry has recently been in the habit of sharing photos of its more attractive female officers on social media.
This is not the first Russian lady who became a heartthrob in Japan. Following Russia's reunification with Crimea in 2014, Chief Prosecutor Natalya Poklonskaya became the inspiration for memes in Japan, with numerous manga drawings and anime cartoons dedicated to her.
READ MORE: Crimean prosecutor music clip hits 3.7 mn views in three days
She was praised not only for her looks and big blue eyes, but also her bravery as she vigorously defended the right of the Crimean people to self-determination and their desire to part ways with Ukraine. The 'Prosecutie' has made an impressive career in Russia since then, currently as an MP for the country's biggest party – United Russia.
Think your friends would be interested? Share this story!
You can share this story on social media: