Crimean prosecutor music clip hits 3.7 mn views in three days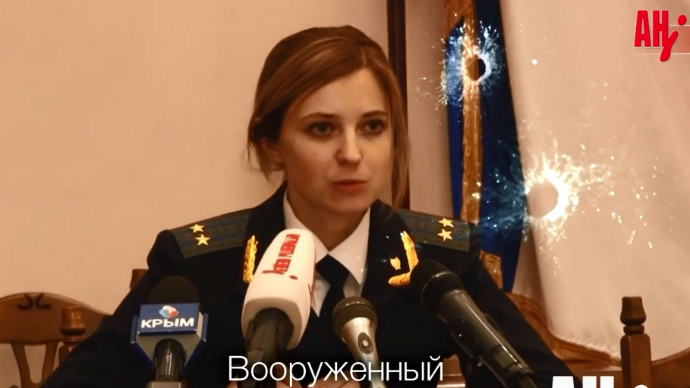 The internet fame of Crimea's chief prosecutor, Natalya Poklonskaya, rages on. A patchy music clip made from Poklonskaya's videos has scored millions of views on YouTube, with a celebrity opposition figure calling the attorney a "sex symbol of Russia."
Footage of Poklonskaya's emotional speech on the coup d'état and "chaos" in Ukraine has been making rounds on the internet since March, but this is the first time it has been set to music.
The chorus of the music mix, compiled by an anonymous internet DJ known only by his alias 'Enjoykin,' could certainly be described as simplistic.
In a combination of the official speech and several informal interviews, Poklonskaya appears to be singing: "Power. Blood. Nyash-myash. Blood. Power. Crimea is ours," (which rhymes in Russian).
The "nyash-myash" bit was apparently taken out from Poklonskaya's own reaction to her becoming an anime star and receiving a Russian nickname of Nyasha – to which she replied that she would prefer to be perceived as a prosecutor and will not allow any "nyash" or "myash" while at her post.
On a more serious note, the rest of the clip offers cuts from Poklonskaya's solemn statement which said that "the anti-constitutional mayhem has led to a massive bloodshed...we have no moral right to step aside from our people...our task is to get the work of the prosecutor's office back on track in this country."
It also features some original Japanese-style animation of Poklonskaya fighting monsters and sending a toy boat of 'friendship' to a girl who is possibly representing Ukraine.
Видео на ночь от фанатов Натальи Поклонской (с уважением к прокурору Няш-Мяш от Enjoykin) http://t.co/9uJbImNs6Rpic.twitter.com/yc54Dywcv8

— РСН (@107_0) April 15, 2014
The video, which was uploaded to YouTube on Tuesday afternoon, managed to grasp 3,791,552 views and counting by Friday.
The 34-year-old blonde, who is piled up with work as the Republic of Crimea transitions into a Russian region, was shown the clip by Kseniya Sobchak – a Russian opposition activist, journalist, and celebrity.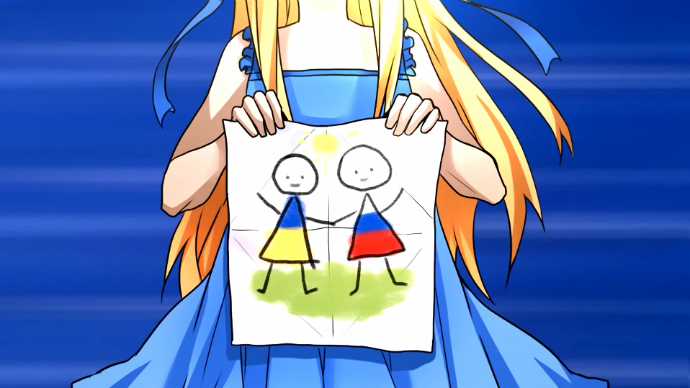 Sobchak said she was proud to be "the first journalist who showed the beautiful prosecutor Natalya Poklonskaya the 'Nyash-myash' clip," stating on Twitter that "she is so beautiful – the sex symbol of Russia."
It is believed that Poklonskaya took the job after four of her male colleagues refused to take the risk days ahead of the March 16 Crimean referendum on independence from Ukraine, in which 96.77 percent of voters chose to join Russia. The Black Sea republic was then accepted into the Russian Federation on March 21.
The courageous blonde has said that she will "prove" she is worthy of the position, adding that she is not afraid of persecution by Kiev. Poklonskaya is wanted by the Security Service of Ukraine on charges of "violent overthrow of constitutional order and takeover of government power."
You can share this story on social media: