'Racist' Spurs fan who threw banana skin at Arsenal player handed 'indefinite ban' from games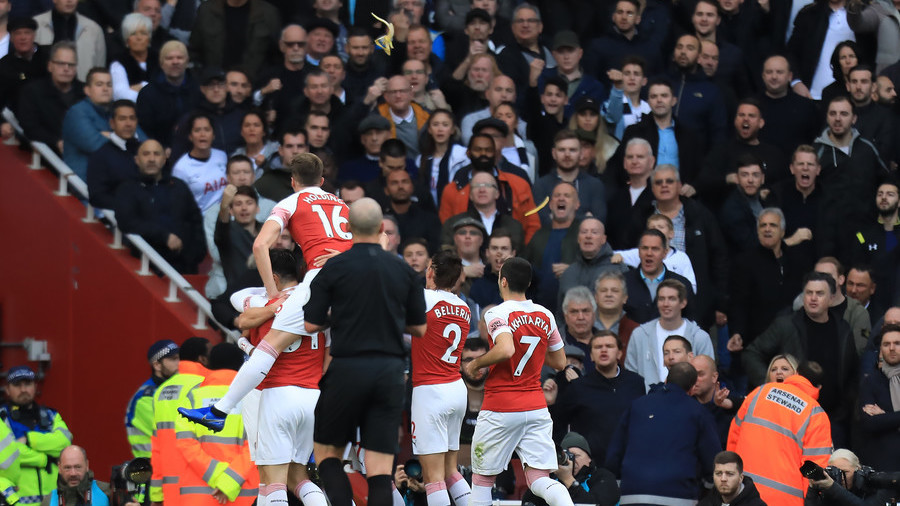 A Tottenham Hotspur supporter, who was arrested by police and branded a "racist scumbag" by Piers Morgan for throwing a banana skin at Arsenal's Pierre Aubameyang in the North London derby has been banned from attending games.
The supporter was among seven people who were arrested for a variety of public order offences during Sunday's tempestuous derby between the two sides at the Emirates Stadium.
The fan, who has not been named, will not be permitted to attend any Tottenham games for an indefinite period of time.
Also on rt.com
'Racist scumbag!' Spurs fan arrested for lobbing banana at Arsenal's Aubameyang after goal (PHOTOS)
The incident occurred at around the ten minute mark of Sunday's clash between Arsenal and Tottenham after Aubameyang had given Arsenal the lead from the penalty spot.
As the Gabon international celebrated the strike in front of a section of Tottenham supporters, a banana skin was thrown onto the pitch in the player's direction - an action which has well-known racist connotations.
In the aftermath of the game, a Tottenham official condemned the fan's actions saying: "Behavior such as this is completely unacceptable and the supporter in question will be issued with a ban."
Six further arrests were made for various other offences, including two Arsenal fans who were detained for lighting smoke flares inside the stadium.
Piers Morgan, a noted Arsenal fan, condemned the actions of the fan and called or the guilty party to be banned for life.
Some fans on social media have been attempting to come up with further ideas to punish the fan in question. One suggests that a season ticket to see Manchester United would be fitting, while another questions if not being allowed to watch Spurs is a form of punishment at all.
Arsenal won the fixture by 4-2, with two goals from Aubameyang and one each from Alexandre Lacazette and Lucas Torreira. Spurs had taken the lead following Aubameyang's spot-kick through goals from Harry Kane and Eric Dier.
Tottenham's Jan Vertonghen was issued his marching orders in the 85th minute to compound a bad day for the club.