Mystic Khabib: UFC lightweight champ nails score prediction before watching PSG v Liverpool (VIDEO)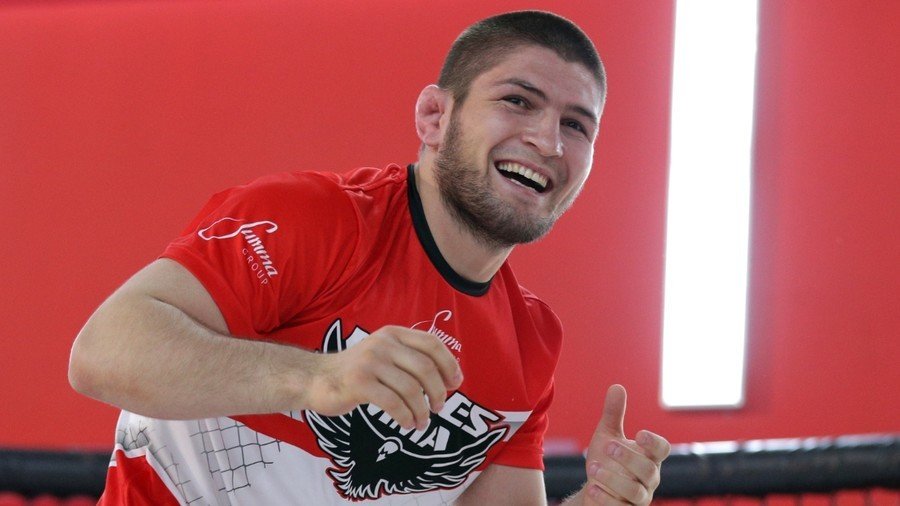 UFC lightweight champion Khabib Nurmagomedov predicted the scoreline with unerring accuracy before taking his seat with a pair of A-list stars to watch Paris Saint-Germain defeat Liverpool 2-1 in the UEFA Champions League.
Nurmagomedov was seated just in front of legendary Rolling Stones frontman Mick Jagger and Hollywood icon Leonardo DiCaprio for the game, as the big-spending French giants took on last season's losing finalists in one of the biggest encounters of the Champions League group stages.
READ MORE: 'Put him in midfield!' Football-mad Khabib watches PSG v Liverpool UCL clash (PHOTOS)
Nurmagomedov shared his experience via his Instagram story, including the moment when he joined the victorious PSG team in the locker room after their victory as they celebrated their crucial 2-1 victory.
And the UFC lightweight champion even called the result before kick-off, telling PSG's social media team that he believed the French side would run out 2-1 winners.
"Thank you so much, guys," he said. "This is my first time when I come to Paris with friends and I'm very excited about this match. I know it's a very important match for Paris Saint-Germain and Liverpool is a very tough club. Right now they're in very good shape. It's going to be a very good match.
"For the last 22 years I know all the soccer stories. When France won the World Cup 20 years ago, I knew all the players who played there, even now.
"My prediction? 2-1. I think Paris Saint-German are going to beat Liverpool. This is my prediction."
Nurmagomedov's successful prediction takes a page out of his rival Conor McGregor's book. The Dubliner made a name for himself by not only winning his fights, but accurately predicting how, and when, he would win them.
It led to McGregor calling himself "Mystic Mac," a moniker that has stuck with him throughout his UFC career.
But with Nurmagomedov's spot-on prediction of a 2-1 PSG win, it appears that "The Eagle" has not only taken the Irishman's former UFC lightweight belt, he's also taken his "mystical" prediction abilities, too.
You can share this story on social media: