'Scariest injury': UFC fighter reveals horror eye damage suffered at Argentina event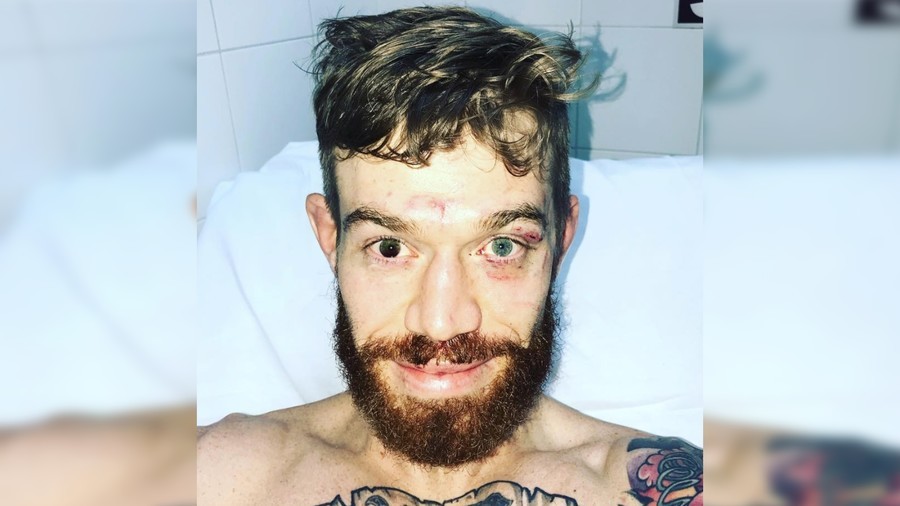 UFC lightweight Devin Powell revealed he fought in the recent UFC Fight Night event in Argentina with a blood-filled right eye that left him blind during the bout.
The American fighter has had a grueling year, with one win, one loss and two horrific injuries punctuating a rollercoaster 12 months for the Maine native.
READ MORE: Playing as black: Norwegian chess sensation Carlsen bruises eye ahead of crunch match
His most recent bout saw him fall to defeat against Jesus Pinedo at UFC Fight Night 140 in Buenos Aires, Argentina, but it wasn't until after the contest that fans were told the full story behind his unanimous decision loss.
Posting to his Instagram page, Powell detailed the injury that rendered him blind in one eye for much of the contest, and left him with an eyeball full of blood after the event.
"So that was [the] scariest injury I've had in a fight," he began.
"In the middle of the second round I suffered a hematoma inside my eyeball. My whole right eye filled with blood (as you can see in the photo) making me completely blind in that eye all the way up until I left the hospital that night.
"No detached retinas, I am always doing a bit better and my foot isn't broken even though it looks like a giant balloon.
"I am very frustrated with the outcome, we game planned for someone who comes straight forward very aggressively but I chased him for 15 minutes except for when I was on my back and he wouldn't engage on the ground.
"All we can do is get better and find solutions for these stalling points. @ufc eager for the next one. Let's go."
Remarkably, Powell's nasty-looking eye injury is his second horrific injury of 2018.
READ MORE: 'He punched me repeatedly': UFC star Rachael Ostovich details alleged attack by her husband
Earlier this year, Powell suffered a ruptured testicle while drilling his jiu-jitsu with fellow UFC veteran Joe Lauzon in February.
"I felt it and it felt like there was a unicorn horn popping out. It was leaking on the inside. I figured I should probably go see someone," he told MMA Fighting back in March.
Incredibly, after surgery to repair the injury, he was back in training just a week later, but admitted: "I'll never train without a cup again."